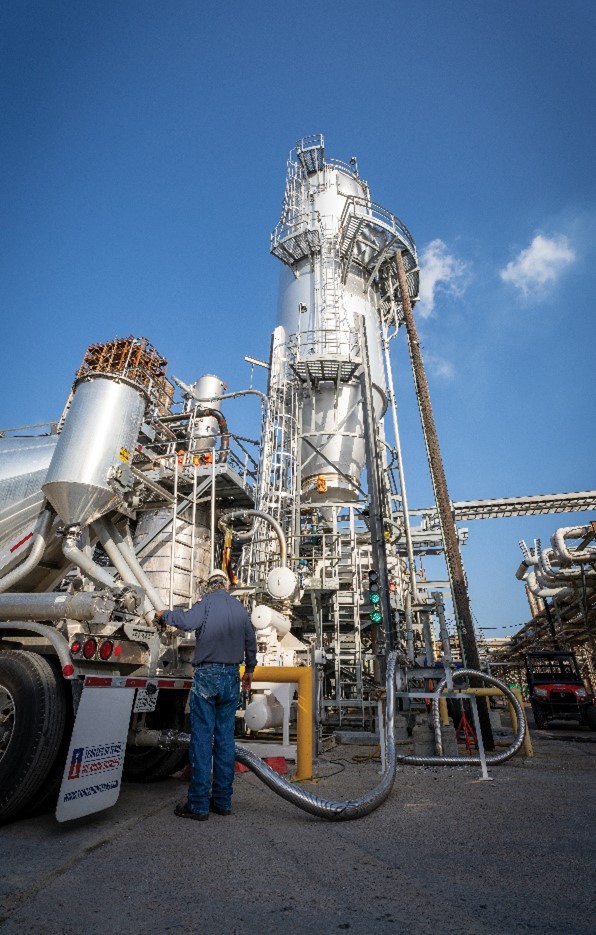 Blog
ExxonMobil: Bringing Advanced Recycling to Life
Plastics are essential for modern life. They're needed for our computers, mobile phones and vehicles. They help preserve food, deliver clean drinking water and protect against disease. At the same time, plastic waste is a major challenge ExxonMobil is committed to addressing.
One way we're doing that is through advanced recycling.
This technology complements mechanical recycling by converting more types of plastics into new products. There's rising demand for plastics circularity around the world, far exceeding the supply that mechanical recycling provides today. Our customers – and theirs – have goals to use more circular materials in their products and increase the amount of their products that are recycled. Advanced recycling can help consumer brands meet those goals.
Marking this year's America Recycles Day on November 15, I'm proud of the work my colleagues are doing to increase the amount of plastic waste into the recycling stream – in America and around the world. We're helping to keep plastics out of landfills and away from incineration.
In Baytown, Texas, where I spent part of my career, we've built one of North America's largest plastic waste advanced recycling facilities. It's up and running today and has the capacity to process 80 million pounds of plastic waste per year.
And that's just the start. We're looking at potential new facilities at other sites in the United States, as well as in Canada, Belgium, the Netherlands and Singapore. All told, we expect to have the capacity to process a billion pounds per year around the world by the end of 2026.
Our Baytown plant processes plastic waste that's difficult to recycle. We're taking films, plastics with residue from food, motor oil bottles, artificial turf, dry cleaner bags, bubble wrap and more. We combine all this plastic waste with other feed streams and turn it into the building blocks that create a wide range of products, including new plastics and high-value chemical products.
Our process is efficient, converting about 90% of the plastic waste into raw materials. ISCC PLUS, a third-party audited approach, certifies the process and the new 'certified-circular plastic' we sell. This is how our customers can be sure their purchase contributes to giving plastic waste a new life and keeping plastics away from landfills.
Through my more than 20 years with ExxonMobil, I have always known our people to be dedicated to running safe and environmentally responsible operations. We have high standards, and we're working toward net zero scope 1 and 2 greenhouse gas emissions by 2050 across all of our operated assets.
We're working with communities, waste management companies and other recyclers to increase the collection and sorting of plastic waste. We can't do it alone. We need more effective government policies that help enable the collection and recycling of more plastics, especially those that aren't easily recycled today.
Ending plastic waste will require a sustained, collective effort – from designing plastics with recycling in mind to ensuring plastic waste is recycled. Advanced recycling is one way to help us keep the benefits of plastics while addressing plastic waste, and I'm proud to be a part of it.
Published on November 14, 2023
Our Updates, Delivered to You
Receive the latest updates from the Consumer Brands Association.