Gain insights and perspectives from the top leaders in CPG.

Navigating today. Shaping a stronger tomorrow.
CPG Speaks brings the industry's influential leaders directly to you to share their insights and engage on the pressing issues that will define the future.
Why Attend?
We are at a critical moment for the CPG industry. Trust in the industry is on the rise, as we have continued to deliver for consumers and our employees throughout CPG's garnered attention. The industry has a responsibility and an opportunity to continue to grow that trust.
CPG Speaks brings the industry together for must-attend discussions about the business and societal issues that will shape the future.
Access.
Be there for the thought-provoking and sometimes difficult conversations with industry leaders.
CPG Speaks sessions will challenge the industry to rise together. To better ourselves professionally. To grow our relationships with consumers. To bring about a stronger future.

Insights.
Connect with influential decision-makers.
Learn how leaders are thinking about today's most pressing issues and get an inside look at what's really keeping them up at night.
Ideas.
Get an inside look at how tough decisions are made — and how great leaders grow from failure.
We face challenges daily. Gain an edge to face your next challenge head-on by learning how CPG leaders approach and analyze issues to turn problems into opportunities.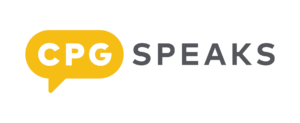 Get insights and learn from
CPG Executives.
Register for upcoming CPG Speaks sessions today.
Our Updates, Delivered to You
Receive the latest updates from the Consumer Brands Association.