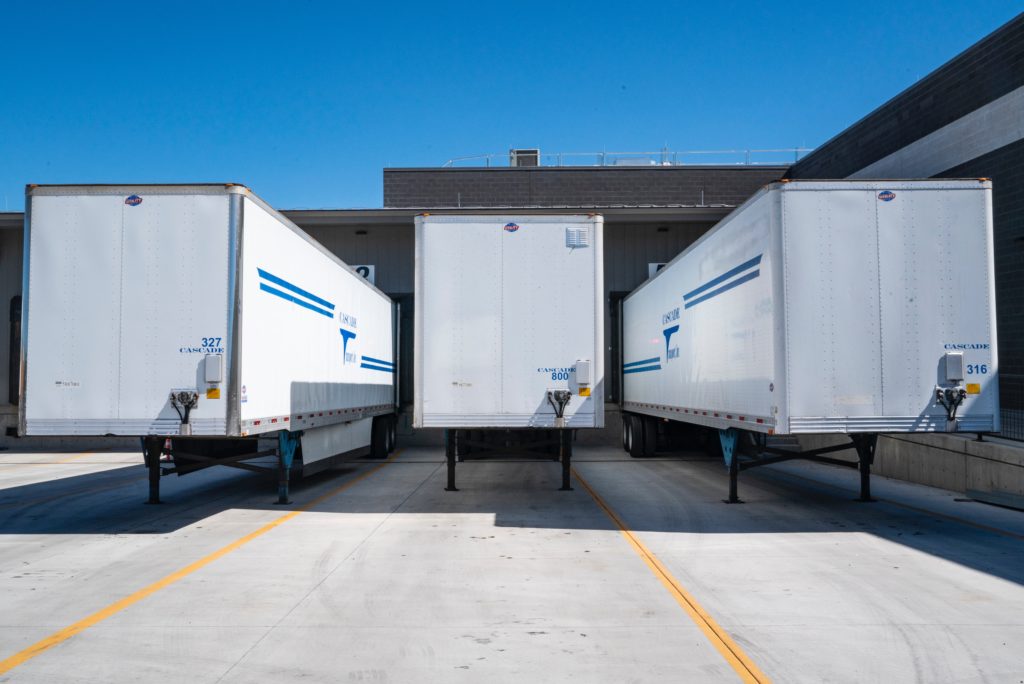 Press Release
Contactless Delivery Pilot Implemented During Pandemic Brings Long-Term Efficiencies to the CPG Supply Chain
Consumer Brands' Contactless Operational Standard Enhances Safety, Efficiency
ARLINGTON, Va. — Today, the Consumer Brands Association released an operational standard for contactless freight pickup and delivery that empowers companies to shift from an archaic paper-based delivery process to a digitized supply chain, enhancing safety, increasing productivity and bringing transparency to every employee involved in the end-to-end supply chain ecosystem.
At the beginning of the pandemic, the consumer packaged goods industry faced the enormous dilemma of continuing to produce and deliver the essential products Americans needed to stay home and stay safe, while also protecting the health and safety of truck drivers, CPG facility employees and their families. In June 2020, Consumer Brands and its partners Vector, Accenture and Coyote Logistics convened the Contactless Freight Pickup and Delivery Task Force, comprised of CPG companies, carriers and retailers to solve this problem.
"The COVID-19 pandemic forced CPG and our adjacent industries to rapidly innovate and accelerate technologies to keep our workforce safe and ensure store shelves remained stocked," said Geoff Freeman, president and CEO of the Consumer Brands Association. "As we emerge from the pandemic, companies are taking the best lessons learned — like the contactless operational standard — and applying them to maximize efficiencies as the industry shifts from the challenges of COVID-19 to unprecedented cost pressures and inflation."
The operational standard is a set of data requirements for the critical steps in the pickup and delivery process, from the moment drivers arrive at a facility ready to pick up CPG goods to the moment they make their delivery. The collaborative workflows create a "control tower" view of the entire supply chain, improving visibility and aligning to key performance indicators. By digitizing the pickup and delivery process, the contactless standard eliminates an estimated 2 tons of paper per year at each facility, protects driver and employee health by reducing physical interaction and lowers costs by reducing the amount of time spent by drivers and facility employees at each pickup or drop off. On average, the contactless delivery workflows reduced driver dwell time by 40 minutes at each facility, giving drivers more time on the road. By adopting the standard, stakeholders can operate more efficiently and better serve the consumer.
"The supply chain and trucking industries rely on surprisingly old-fashioned systems — paperwork, and lots of it," said Tom Madrecki, vice president of supply chain and logistics at Consumer Brands. "Consumer Brands' Contactless Freight Pickup and Delivery Task Force has taken a significant step forward to accelerate progress, creating a data and technology standard for how companies can become contactless and eliminate paperwork. The potential to save time, money, employee resources and the environment is on the table, and we are only scratching the surface. Leveraging the contactless standard and replacing paper with digital transactions is a no-brainer for any shipper or receiver, enabling next-generation supply chains to become more efficient and resilient."
In a new video released with the standard, members of the Contactless Freight Pickup and Delivery Task Force, including Clorox and Coca-Cola, tell the story of the program and how this is revolutionizing the way their supply chains function.
What Task Force Members Are Saying:
Chris Adderton, vice president, Council of Supply Chain Management Professionals: "Based on the validation provided by the pilot programs, it is clear building to a standard will provide a safer, more efficient and more accurate pickup and delivery process which will improve the performance of the supply chain."
Nick Shroeger, chief network solutions officer, Coyote Logistics: "As a global third-party logistics provider, we work with thousands of carriers every day and we understand the pain points that inhibit driver adoption. From our point of view, creating a new standard is arguably more valuable than any one piece of new technology that is introduced in our industry. The model that was built here will make this sustainable and scalable in our industry long term, with benefits that far surpass the initial goal of creating a safe contactless environment in the midst of the pandemic."
Will Chu, co-founder and CEO, Vector: "Digitization and automation are key to building more resilient supply chains. As the technology advisor in the task force, it was important for us to develop an open standard which gave logistics partners the flexibility to become contactless with their technology of choice."
###
The Consumer Brands Association champions the industry whose products Americans depend on every day, representing nearly 2,000 iconic brands. From household and personal care to food and beverage products, the consumer packaged goods industry plays a vital role in powering the U.S. economy, contributing $2 trillion to U.S. GDP and supporting more than 20 million American jobs.
Published on August 10, 2021
Our Updates, Delivered to You
Receive the latest updates from the Consumer Brands Association.