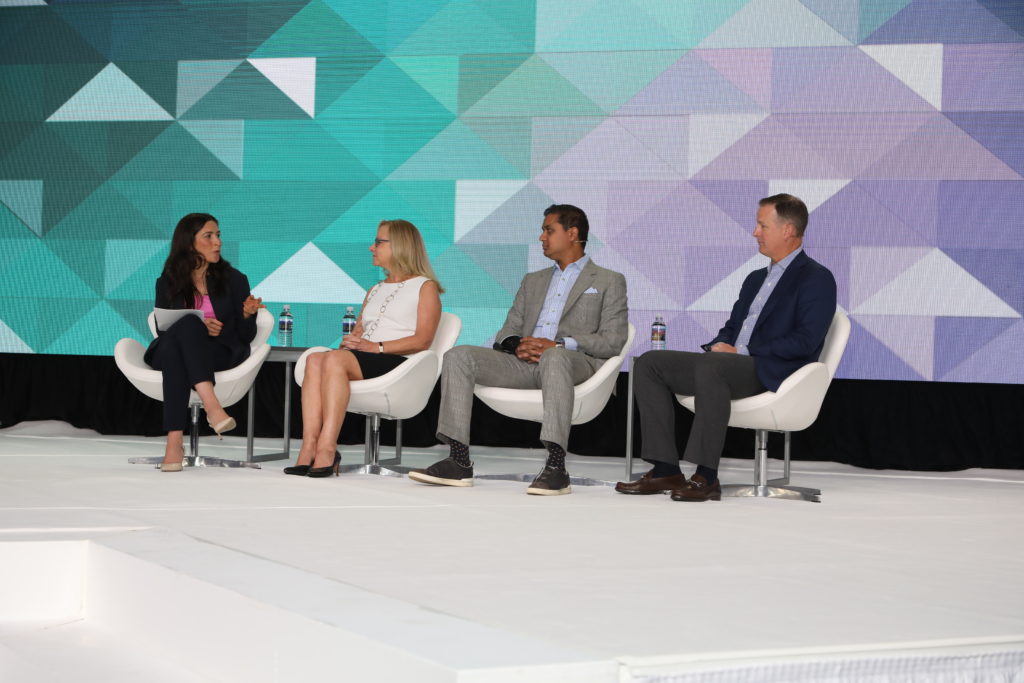 Blog
Can the CPG Industry Guard Itself Against a Looming Recession?
Photo: The View from Wall Street. (L-R) Lauren Hirsch, Caroline Levy, Kaumil Gajrawala, David Palmer
Today's headlines send mixed messages about the state of our economy. Wall Street is ringing alarm bells that a recession is coming, while the economy remains strong and unemployment remains low.
"Beneath the headlines, we are prone to the business cycle," Dr. Alexis Crow, lead of PwC's global investing program, shared with Carolyn Tastad, president of North America global sales and executive sponsor of gender equality with P&G, in a conversation at this year's Leadership Forum. "The good news is, with the long term patterns of demand, food is not going away, consumer products are not going away. So in many ways, this is recession-proof," said Crow.
That's not to say the industry won't be affected by a downturn. While it may not be hit as hard as some industries, tariff battles in China, Mexico and Canada create uncertainty and cost. Crow shared, "America, some people say, is a closed economy. It's not."
During the View from Wall Street panel, Caroline Levy, senior beverage, household products and personal care analyst at Macquarie, expressed her thoughts on how CPG could prepare for a possible recession.
"What I love about this business is that it's so stable," said Levy. "I do think we're going to outperform most industries in a recession. I still think there's room for products to dramatically outperform the competition with good innovation."
Innovation was frequently cited as differentiating companies that stand out to investors. The companies that win are ahead of the new consumers: younger Millennials and Gen Zers who may not own a home or have children, but place a high value on wellness and social responsibility. New products like hard seltzers and plant-based proteins are rapidly growing, to serve this demographic that is committed to a cleaner diet and planet.
"What we see now is a shift moving anything to do with social responsibility into the office of the CEO," said Crow, as she made the point that CSR initiatives are now top priorities for leadership. "It should also be in the office of the CFO and the CAO, because the increasing indicators to which this is linked to positive firm performance means you can't afford to ignore it."
The discussion turned to how small disruptor brands and large legacy companies are competing in the same space for those new consumers, helping to drive innovation — and complicating profitability — even further.
"These smaller brands, the market will support them not making money for a long period of time," said Kaumil Gajrawala, managing director of beverages and HPC at Credit Suisse. "They can stay unsustainable for very long periods of time and their goal is to be unsustainable in order to sell for the highest price possible."
He joked, "What you need to do is make no money, sell a concept and that's how you become a billionaire."
Published on August 17, 2019
Our Updates, Delivered to You
Receive the latest updates from the Consumer Brands Association.