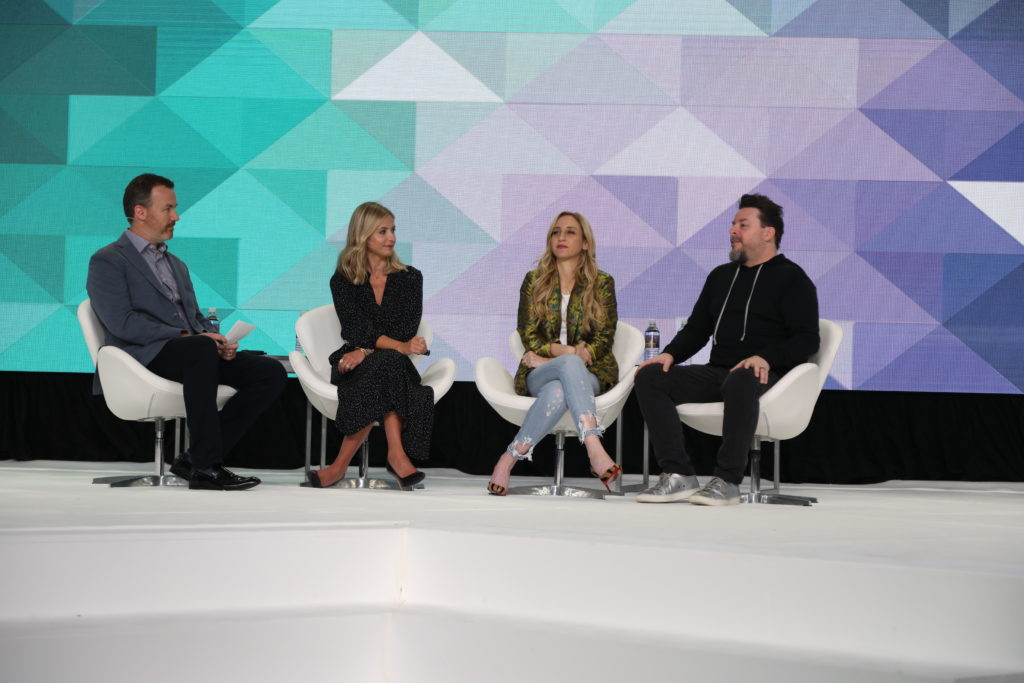 Blog
Brands That Create Relationships With the Consumer Find True Authenticity
Photo: (L-R) Brandon Partridge, Sarah Michelle Gellar , Galit Laibow, Greg Fleishman 
The consumer is king. And today's consumer isn't satisfied with the status quo. Products that meet every lifestyle, preference and personality can be found on the aisles of your favorite store or pages of online retailers, thanks to millions of CPG brands, both big and small, who are dedicated to fitting those unique needs.
Sarah Michelle Gellar (famous for her role in Buffy the Vampire Slayer), Galit Laibow and Greg Fleishman joined this year's Leadership Forum to discuss their growing CPG company, Foodstirs, a kid-friendly, organic baking mix brand, and how their previous experiences inspired their business.
"The consumer is much smarter now and they know the delineation between spokesperson and co-founder," Gellar said, speaking about her experience as a Foodstirs executive today versus her time as a celebrity spokesperson. "If I were going to step back into that world it had to be for something that I felt passionate about, that I had a hand in creating what the voice was, because I do have a voice and I wanted to be able to use it."
The session emphasized the need for brand authenticity in every aspect of the business, from making a product they'd enjoy with their own families, to communicating with their consumers in real time.
"Having the courage and the confidence to be imperfect is how you build out these relationships," said Fleishman.
"We created a brand that we are also the consumers for," Gellar added.
But with constant newcomers shaking up the market, do brands today still have the same importance they once did? Jon Edwards, consumer insight expert with Accenture, lead a panel on whether brands still matter to today's consumer.
"Brands that are paying attention to consumer trends and what they want are staying relevant, and they do still matter," said Kim Feil, chief marketing and strategy officer of Aspire Healthy Energy Drinks. "The ones that aren't, aren't. And there's where opportunities come for brands like ours to really fit those spaces that are unmet."
In fact, according to research conducted by Accenture, brands matter more than ever, even to young consumers.
"The millennial consumer and the Gen Z consumer want authenticity and they will pay more if they feel that a brand actually delivers that exponential quality," said David Simnick, managing partner of Impact Driven Brands.
Published on August 16, 2019
Our Updates, Delivered to You
Receive the latest updates from the Consumer Brands Association.