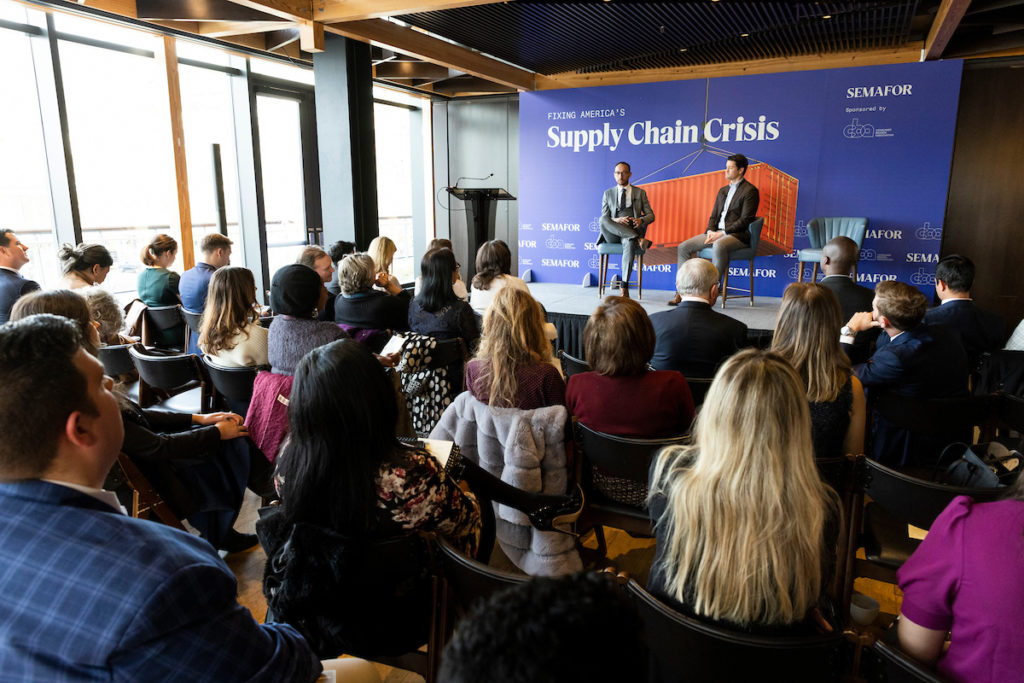 Blog
D.C. Thought Leaders: Urgency at an All-Time High in 2023 for Supply Chain Solutions
As 2023 takes shape and the 118th Congress sets course on its new session, the focus on America's supply chains and the need for proactive policy solutions to strengthen them has never been greater. Building on this momentum in Washington to address supply chain issues, Consumer Brands leveraged its relationships to convene key thought leaders and outline the leading opportunities to deliver for consumers and ensure the continued availability, affordability and accessibility of everyday essentials. The top-line: Now is the time to support domestic manufacturing, enhance transportation performance, remove trade barriers and accelerate innovation. American competitiveness and consumers' quality of life is at stake.
Steve Clemons, editor at large of Semafor, sat down with Rep. Lisa Blunt-Rochester (D-DE), who discussed the need for a federal office of supply chain and comprehensive supply chain legislation supported by Consumer Brands.
"What I am confident and hopeful about is the fact that the conversations haven't stopped."
Rep. Dusty Johnson (R-SD) discussed with Clemons his focus on near-term and tangible solutions to mitigate supply chain gridlock, including logistics-focused efforts to enhance ground transportation efficiency.
Consumer Brands VP of Supply Chain and Logistics, Tom Madrecki, was joined by Sean Joyce, Executive Director of the Shippers Coalition, to forecast opportunities in the new Congress to tackle supply chain pressures that have persisted since the outset of the pandemic. We can't afford to go from crisis to crisis – and all too often, we take supply chains for granted. That has to change, and new members are positioned to do just that.
Michael Kiley of UPS and Clete Willems, former deputy director of the National Economic Council, talked with Semafor's Gina Chon about public-private partnerships' relationship with supply chains.
Clemons closed out the program with outgoing New Jersey Rep. Tom Malinowski, who shared his hope for the future of congressional action on shoring up supply chains and reflected themes he saw take shape during his time in Congress.
Supply chain issues aren't going anywhere for the foreseeable future, as the problems facing consumers and consumer packaged goods companies are complex and multi-faceted. Consumer Brands is leading efforts to fix and strengthen U.S. supply chains, and conversations like those at the event with leading members of Congress are an indicator of the momentum on Capitol Hill. Will the 118th Congress deliver on the promise of supply chain policy reforms?
Published on January 5, 2023
Our Updates, Delivered to You
Receive the latest updates from the Consumer Brands Association.