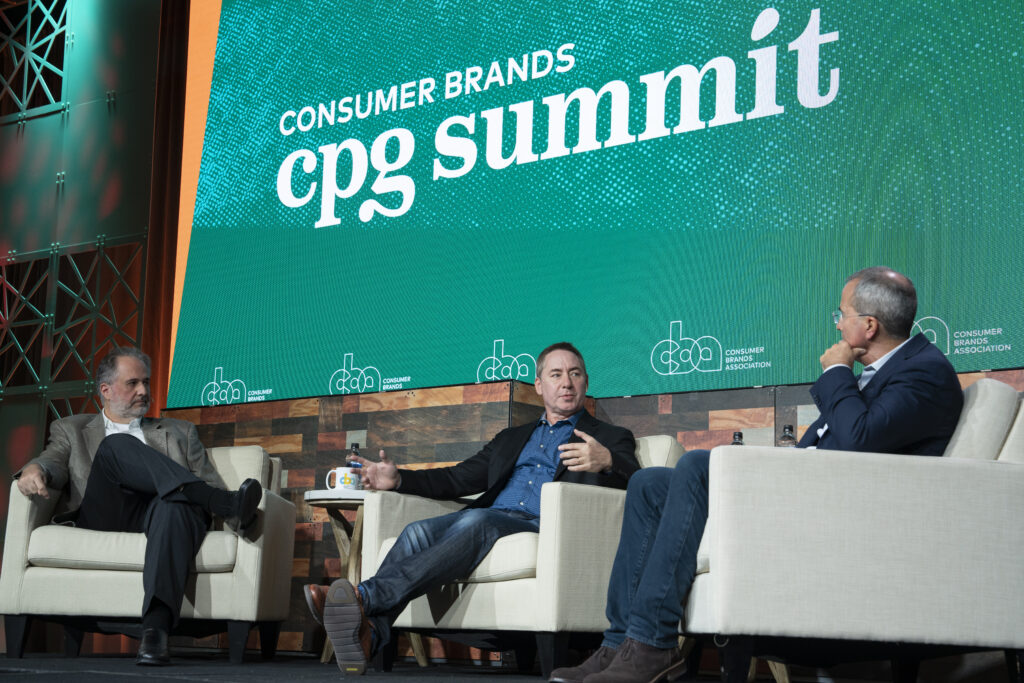 Blog
Invest in Growth: Why Early GenAI Movers Have an Edge
Note: This summary for the Consumer Brands website builds on Bret Greenstein's panel discussion during the Consumer Brands CPG Summit.
I'm excited to hear the progress that CPG companies are making in their adoption of generative AI (GenAI). At this year's Consumer Brands CPG Summit, our discussions highlighted the exciting possibilities of GenAI and the practical steps that companies are taking today. GenAI is beginning to revolutionize how we work, live and interact.
In fact, PwC's August 2023 Pulse Survey on business reinvention indicates that the highest strategic priority for consumer-facing companies is embedding AI and GenAI into their business models.
Moving forward
AI and GenAI are part of the larger technological evolution of recent decades centered around the explosion and use of data. Central to this evolution is how GenAI will let us analyze and synthesize structured and unstructured data — from text and code to voice and images.
I've seen up close the impact these technologies are already having on product development with CPG companies. From revamping customer service and support to improving market research and transforming back-end operations, we're just beginning to explore what these new technologies can unleash.
I'm pleased to report that PwC research finds that leaders at consumer-facing companies are ready to get started, with 73% telling us they expect to use GenAI to support new business models over the next 12-to-18 months. And they will prioritize tech investments over all other strategic business changes.
As you begin this evolution, keep these three steps in mind:
Prepare for reinvention at scale
While today's CPGs have enormous quantities of data, developing monetization strategies for that data has been a consistent challenge. GenAI has the potential to boost scale, speed and impact across value chains. Doing so can help enhance the capacity of teams while also helping CPGs explore opportunities in new markets and industries.
This level of enterprise-wide coordination will likely demand significant business reinvention. Fortunately, executives are rising to the occasion by focusing on what matters: 79% said they have the culture in place to take this on.
This readiness can give companies the edge when confronting some key internal challenges, such as:
The cost of adopting new technologies
Achieving efficiency and cost savings
Training workers on the new tech
Concrete business plans — rooted in a metrics-based vision for success — can provide the foundation for business reinvention.
Ramp up cyber resiliency
CPG companies have already blazed new trails in connecting directly with consumers via personalized marketing and content. Meanwhile, digital and physical channels are melding interchangeably for consumers as they move from gathering information to comparing prices to making a purchase.
This seamless interconnectedness of data across channels is creating new vulnerabilities to cyberattacks. Almost 75% of leaders at consumer-facing companies told PwC that broader, more frequent cyberattacks pose a serious or moderate risk to their businesses. They're responding by boosting their cyber resiliency and monitoring cybersecurity policy.
Upskill your workforce
GenAI has the potential to power workforce transformation at scale, democratize access to digital capabilities and skills, and free up time for the workforce to focus on more strategic work. An inherent component of this transformation — one that is required to harness the full potential of AI — is a digitally skilled workforce.
I've seen plenty to applaud as well. PwC's August 2023 Pulse Survey revealed that almost 40% of consumer-facing companies are already upskilling employees on new tech, while 30% are ready to do so. Focused on retention, nearly 40% have increased compensation. With these talent-nurturing measures in place, 75% of leaders are confident that they will be able to attract and retain the workforce that will power change. 
Trust by design
GenAI has the potential to create new markets and opportunities. To harness the benefits most effectively, be aware of — and responsive to — the attendant risks. Prioritize a responsible approach to AI, incorporating trust by design across the board.
Published on November 20, 2023
Our Updates, Delivered to You
Receive the latest updates from the Consumer Brands Association.