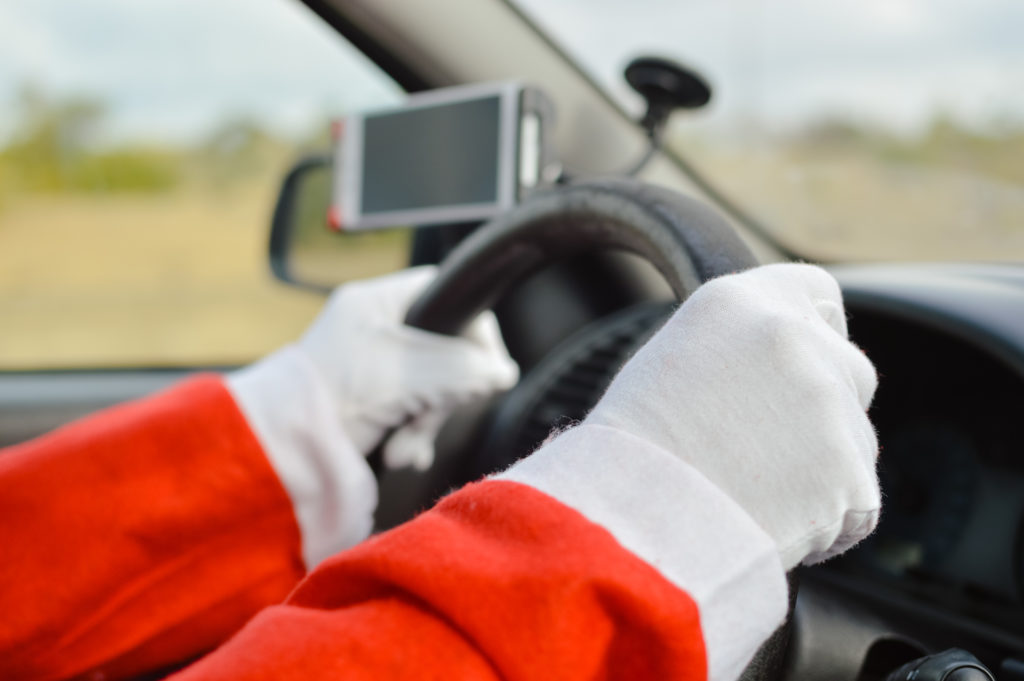 Blog
The Holiday Supply Crunch Doesn't End at the Ports
The most efficient supply chain this holiday season might be Old Saint Nick's. With worsening supply chain backlogs and mounting delays for everything from furniture to school lunch deliveries, a sleigh and eight tiny reindeer makes Santa the envy of logistics managers worldwide.
Alas, flying sleighs will not be an option to solve the supply chain crisis (they're backordered until 2024). And, as much as we hate to say it, ramping up port activity without addressing other links in the chain won't do it either.
Ports have gotten most of the recent attention. Cargo ships littering the ocean and colorful stacked containers are a good visual of the supply chain's problems but are not the sum of the supply chain's parts. Increasing the volume of goods coming into the ports is a good step — so is thinking about what is next. The contents of those shipping containers have a long road ahead that can't be ignored.
When you make essentials, you have to deliver. Period. People can wait for exercise equipment and couches. They can't wait for baby formula and toilet paper.
While some raw inputs will come through the ports and Consumer Brands is very supportive of the administration's actions to get the Los Angeles and Long Beach ports to run 24/7, most CPG products are sourced and made in America. That hasn't left the CPG industry immune to supply chain problems — far from it. Costs for ingredients and materials, transportation and labor are up significantly.
It's a cost CPG companies must pay. When you make essentials, you have to deliver. Period. People can wait for exercise equipment and couches. They can't wait for baby formula and toilet paper. A Consumer Brands/Ipsos poll of 1,023 American adults conducted October 22-25 found that 62% of Americans are concerned about CPG product shortages in the next few months based on recent supply chain news. It's no wonder with the holiday supply chain crunch grabbing headlines.
What the headlines miss is that the issue doesn't begin and end at ports and it isn't just about toys and electronics. Half (50%) of Americans report having already experienced grocery product shortages in the past few months. Another 17% say they haven't yet but expect to in the coming months. Only 27% say they have not and do not expect to experience shortages.
| | |
| --- | --- |
| Are you concerned about challenges finding the specific products you want for the following categories? | Percentage answering yes |
| Food and beverage products | 55% |
| Cleaning and personal care products | 44% |
| Holiday food items (i.e. turkeys) | 34% |
| Electronics | 24% |
| Apparel and shoes | 21% |
| Toys | 15% |
When compared against other product types, Americans are far more concerned about access to the specific food, beverage, cleaning and personal care products they want than they are about what's on their holiday table or even under the tree.
Right now, Americans are not in panic mode — and that's a good thing. Only 19% report stocking up already and another 15% say they plan to start stocking up soon. One of the biggest lessons of the pandemic is that it is okay to buy early, but not overbuy. While there are hints of a pumpkin shortage, if consumers buy what they need to make the pies for Thanksgiving, it will be fine. If they buy what is needed to make dessert for the Green Bay Packers, a rumored shortage becomes a self-fulfilling prophecy (see: toilet paper in 2020).
So, if easing port congestion alone won't work, what will? To get past the current crunch, we need to see changes in two key areas: demand and labor.
1. Consumer demand for CPG products has set records 18 of the last 19 months and is contributing significant supply chain pressure. The only exception was March 2021, which was a mere 1.4% lower than March 2020—the month when panic-buying swept store shelves clean and drove demand up 21% over the prior year. In short, it's comparing apples to mania.
2. The labor shortage will keep the pressure on until there are more employees in the workforce. The disappointment of September's jobs report extended to the supply chain as well. The CPG industry added only 5,000 jobs despite around 140,000 openings. In arguably the most critical industry for fixing the supply chain crisis, trucking added only 2,500 jobs despite an estimated 80,000 openings.
Absent a reindeer fleet and a workshop packed with elves, CPG companies are doing everything they can to alleviate supply chain woes — from fundamental options like raising pay (7.3% on average for facility employees) to extreme measures like chartering their own planes.
The private sector needs government support to solve the supply chain crisis though. As the action on the ports proved, government can be helpful in pushing for needed change. Three roles Consumer Brands has flagged for the administration include:
1. Increasing the labor pool through short-term efforts like financial incentives to recruit truck drivers, temporary visas to fill critical roles and even targeted use of the National Guard if necessary.
2. Focusing on what supports output and ensuring government isn't adding complexity while we face down this crisis. From increasing trucking capacity through Hours of Service flexibility or easing truck weight restrictions to pausing rollbacks of flexibilities granted during COVID-19, government needs to view action through a "do no harm" lens right now.
3. Keeping lines of communication open between the public and private sectors to resolve issues in real time. The faster problems can be identified, the more quickly solutions can be deployed. The change to ports hours can serve as a model going forward.
The supply chain crisis will not resolve overnight. Realistically, the challenges will be with us long after Santa is back at the North Pole. But it is the steps we take now that will hasten its end.
Methodology: The Consumer Bands Association/Ipsos poll was conducted October 21-25, 2021, by Ipsos using the probability-based KnowledgePanel®. This poll is based on a nationally representative probability sample of 1,021 general population adults age 18 or older.
Published on October 28, 2021
Our Updates, Delivered to You
Receive the latest updates from the Consumer Brands Association.