Impact
CPG Pulse: Holiday Forecast 2020
Norman Rockwell's iconic "Freedom from Want" has long served as the depiction of American Thanksgiving. But that scene — and indeed that freedom — will not be how most Americans experience the holidays in 2020, as the pandemic continues to upend not just what is normal, but also what is special.
How Holiday Gatherings Will Look in a Pandemic
Home (Alone) for the Holidays
The news broke this week that Pfizer has an effective vaccine candidate that will be reviewed by the FDA, offering renewed hope for the future. But even an approved vaccine will take time to deploy and Americans are preparing for a holiday season with COVID-19 as its unwanted visitor.
Consumer Brands' latest survey of 1,013 American adults found that more than two-thirds (68%) of Americans plan to stay local — at their own home or going to the home of nearby family or friends — for Thanksgiving and 75% for the winter holidays.
There could be more than 12 million less travelers for Thanksgiving and 56 million less during the winter holidays.
Last year, AAA reported that more than 55 million Americans, or about 17% of the population, traveled for Thanksgiving. Another 116 million, or 35% of the population, took to the roads or skies for the winter holidays. This year, according to Consumer Brands' findings, those numbers will plummet. Only 13% plan to travel for Thanksgiving and 18% for winter holidays.
That represents a decline of 12 million travelers for Thanksgiving and 56 million for the winter holidays. The decline may be more severe, as the survey was fielded October 14-22, and COVID-19 cases have continued to rise since then.
Fewer, Smaller Gatherings
Americans won't only be traveling less, they'll be doing less. In 2019, most Americans said they went to one to two (36%) or three to five (35%) events during the course of the holiday season. Only 13% reported going to no events in 2019. But their expectations in 2020 are quite different.
Thirty-seven percent of Americans anticipate going to no events this year — nearly three times the amount who said the same of last year.
The crowd sizes are going down as well. Forty-four percent of Americans say they will be hosting or attending gatherings with fewer people this year. Twenty-eight percent reported their gatherings would have the same number of people. Nearly the same number (27%), however, said they won't be going to any gatherings with people.
Private homes are more likely than restaurants or event facilities to be the scene of gatherings, however small. Where 29% said they would attend no gatherings at private homes, a significantly more 45% said they would not attend any gatherings held in restaurants or event spaces.
Thanksgiving Plans
Winter Holiday Plans
Where do you plan to celebrate Thanksgiving?

Home of local family/friends
24.2

Traveling to home of family or friend
10.8

Traveling to hotel or rental
2.3
Where do you plan to celebrate the winter holiday?

Home of local family/friends
23.5

Traveling to home of family or friend
15.1

Traveling to hotel or rental
3.2
CPG Expectations This Holiday Season
Consumers Anticipate Spending Less
With more Americans homebound this season and fewer and smaller gatherings planned, survey respondents anticipate their holiday spending on CPG products will decline.
Only 15% percent of Americans anticipate they will spend more on CPG products this season. Those who are hosting guests for holidays in their home are most likely to say they will spend more.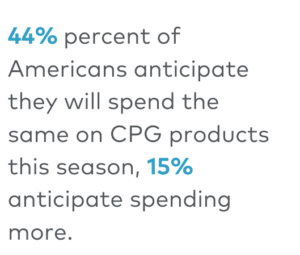 Those who anticipate they will spend more this year think they will do so because: they feel the cost of grocery products is higher and they do not plan to cut expenses (54%); they will have more time at home to engage in holiday activities like cooking and baking that require grocery products (47%); and they are home more and feel that will organically increase their spend (44%).
Another 44% anticipate their level of spending will be the same as last year.
Forty percent expect they will spend less, primarily because: they anticipate fewer expenses this year (56%); they will have fewer guests in their home than usual (31%); and they are concerned about their financial stability and are looking to save where possible (23%).
CPG Purchases Projected to Rise as Americans Stay Home, Seek Comfort
The CPG industry has been an integral part of Americans' ability to stay home and safe during COVID-19. As a result, after the panic-buying early in the pandemic subsided, sales of CPG products have been up around 10% for three of the last four months. As most survey respondents said they expect to spend the same amount or — for a small percentage — more than last year, slight gains are expected for the holiday season, though increases purely attributable to the holidays will not be as significant as a typical year.
Last year, CPG spending rose 3% in November and December. This year, limited gatherings will force a more modest gain, though that gain will be coupled with the increase the industry has seen throughout the pandemic. Accordingly, Consumer Brands anticipates that CPG purchases will be up between 9.5-11.5% for the 2020 holiday season.
CPG purchases averaged an annual rate of $1.41 trillion during the months of November and December 2019. Based on growth expectations, it is estimated it will range between $1.54 and $1.57 trillion in 2020, amounting to an approximate gain between $134-162 billion over last year's level.
This anticipated growth coincides with recent trends in consumer income and spending.  Holiday spending will benefit from elevated savings and job and income gains. It will be furthered by a desire for comfort in a continually difficult environment and households staying home in lieu of traveling, eating out or attending entertainment or sporting events.
Will Increase in Online Shopping Create Delays?
How the Acceleration of E-Commerce Will Affect the Holidays
Once considered the last frontier of e-commerce, online grocery ordering has rapidly reached a broad audience as a result of the pandemic. Prior to COVID-19, only 3-4% of grocery spending was online. But desire for less interaction has led to a spike in online ordering, whether for delivery or store pickup. Forty-two percent of Americans report using some type of online ordering for grocery products in the last six months. Those who have tried it plan to continue—more than half (55%) say they will still use online ordering for grocery products even after COVID-19 is over and more than one-third (36%) say they will at least occasionally. Only 9% said they wouldn't keep using the option.
Online shopping for holiday gifts is also on the upswing. The number of Americans who say they plan to do their gift shopping entirely online doubled from last year to this year (7% to 16%). Nearly half (46%) say they plan to shop mostly online but some in-store, up from the 39% who said they did the same last year. And where 45% of respondents said they shopped mostly or exclusively in-store for gifts last year, this year only 22% think they will do the same.
Supply Chain Pressures Intensify as Peak Season Meets Holiday Demand
The online volume has pushed many retailers to push deals earlier in the season, in anticipation of a shipping crunch that could mean slower delivery times and higher trucking rates. "For CPG, it has been the equivalent of peak season since the pandemic started," said Tom Madrecki, vice president of supply chain at Consumer Brands. "We're dealing with incredible pressure on the supply chain — manufacturing capacity, warehousing capacity and transportation capacity are all stretched. Now we're adding holiday demand to a system that's already in flux and trying to adapt to the accelerated growth of online purchasing."
"It has been the equivalent of peak season since the pandemic started. Now we're adding holiday demand to a system that's already in flux and trying to adapt to the accelerated growth of online purchasing."
The holiday season could add new pressure to a supply chain already stressed by the COVID-19 pandemic. Spring shortages linger in recent memory for many Americans, explaining why 58% say they are at least a little worried about what the increase in online shopping will mean for getting their essentials. Household cleaning products are of particular concern. In fact, while 46% of consumers are at least a little worried about access to food and beverage products, 57% say the same about household cleaning products — a difference likely driven by the panic buying that created shortages early in the pandemic.
"At some point the system starts to show cracks," Madrecki shared. "It raises the importance of government and industry coming together to think about systemic challenges like the truck driver shortage, infrastructure needs, freight rail performance and port clearance times. Improving supply chain performance will only happen with concerted policymaking and strong leadership and coordination across government."
A Better Way Forward to Meet Demand
Reducing friction points in the supply chain becomes even more critical as holiday pressure collides with pandemic demand. CPG companies are focused on supply chain resiliency, taking steps within their operations to meet demand. There are, however, actions only the government can take to smooth those supply chain friction points.
• Protect the CPG Essential Workforce. First and foremost, the essential workers required to get consumers the products they rely on every day must be protected. CPG companies have made strides inside their companies to enhance hygiene protocols, implement health screenings and modified facilities to accommodate a new reality. The government can play a role in supporting the health of essential CPG workers by including them appropriately in vaccine prioritization.
• Keep Goods Moving. Throughout COVID-19 response, the government, through the Federal Motor Carrier Safety Administration, has worked to keep trucks moving. Ensuring continued hours-of-service flexibility and working to increase truck weights safely will help make use of existing transportation capacity, alleviate the challenges of a persistent truck driver shortage and keep pace with consumer demand.
• Ensure Coordination with Federal and State Government. Keeping goods moving requires coordination among the states and with the federal government. Well-intentioned but conflicting efforts can result in a patchwork that undermines supply chain efficiency, inhibiting the production and delivery of goods. Policies aimed at greater collaboration and clarity allow for the timely flow of critical products.
Preserving the Traditions That Are Possible
The supply chain is finding new ways of being more resilient, as are American families that are rethinking the holidays. With travel limited and celebrations smaller this year, connecting through traditions takes on new meaning. The majority (77%) of Americans have recipes they make every holiday season, a measure of comfort that can continue in a year otherwise upended by COVID-19. They are intent on preserving those traditions: 90% of the households celebrating alone said they would still make the recipes that define the holidays for them — though perhaps in smaller quantities.
The CPG industry has always been proud to be part of Americans' holiday traditions and respects the importance of that role more than ever this year. The more than 20 million Americans who contribute to CPG products are part of a supply chain being relied on to bring not just recipes, but memories, to the table.
This holiday season will look different. Americans are adjusting their expectations and modifying their traditional plans to meet the challenges posed by COVID-19. When the ball drops at midnight, it will usher in 2021 and, with it, hope for better in the new year. Through it all, the people behind the CPG industry will be there, supporting Americans through every day, no matter what the future holds.
About This Research
This Consumer Brands Association/Ipsos Poll was conducted October 14 – 22, 2020, by Ipsos using the probability-based KnowledgePanel®. This poll is based on a nationally representative sample of 1,013 general population adults, age 18 or older. The margin of sampling error is plus or minus 3.2 percentage points at the 95% confidence level, for results based on the entire sample of adults. These data were weighted to adjust for gender by age, race/ethnicity, education, Census region, metropolitan status, household income, race/ethnicity by gender, race/ethnicity by age and race/ethnicity by education. The demographic benchmarks came from the 2019 March supplement of the U.S. Census Bureau's Current Population Survey (CPS).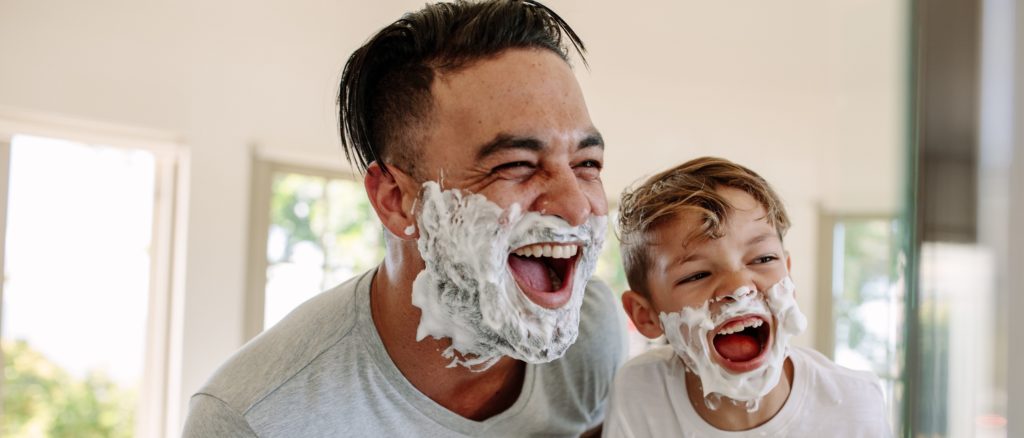 The Economic Contributions of CPG
The CPG industry is the largest manufacturing employer in the United States. The food, beverage, household and personal care products that the industry makes have a positive impact on the lives of every American, every day.
Our Updates, Delivered to You
Receive the latest updates from the Consumer Brands Association.