Impact
October CPG Economic Pulse
October 2020
Economic Activity Continues to Improve but Near-term Pace is Slowing
The United States just completed the strongest quarter of economic growth in history, increasing at a roughly 25% annualized rate. Now those with eyes on the economy are looking for clues for what the fourth quarter will hold. Key questions cloud the outlook of the remaining months of 2020. Will increased incidence of COVID-19 squeeze growth? Will negotiations with the White House and Congress lead to additional fiscal support? How will a changed holiday season affect the economy?
There is little doubt that the federal government's stimulus and relief policies have played a key role in recovery thus far. Advancing a new stimulus package should reduce fear, strengthen confidence and accelerate continued economic recovery. But as we approach a contentious election, is striking an agreement possible?
Looking at This Month's Indicators
Consumer spending rises even as personal income falls. While the pace of income growth has slowed, consumer spending remains resilient. The U.S. Department of Commerce's recent release showed disposable personal income decreased 3.2% from the previous month but still rose at a healthy 5.4% year-over-year pace. The deceleration in income was largely due to ending the $600 weekly supplemental unemployment insurance benefits. Still, retail consumer spending has continued to grow. Retail sales (excluding the volatile motor vehicle sector) were up 2.1% for the month of August.
Aug-19
Sep-19
Oct-19
Nov-19
Dec-19
Jan-20
Feb-20
Mar-20
Apr-20
May-20
Jun-20
Jul-20
Aug-20

Disposable Personal Income % Change Yr/Yr
3.3%
3.4%
3.3%
3.6%
2.5%
3.4%
3.9%
2.0%
17.0%
11.3%
9.4%
9.5%
5.4%

CPG Purchases % Change Yr/Yr
4.0%
3.2%
3.1%
1.9%
4.1%
1.7%
3.3%
20.8%
5.9%
9.9%
10.2%
10.0%
9.2%
CPG sales slow slightly but stay well above pre-COVID-19 norms. CPG sales continued their strong pace with year-over-year growth of 9.2% in August, only slightly lower than July's upward revision of 10.0%.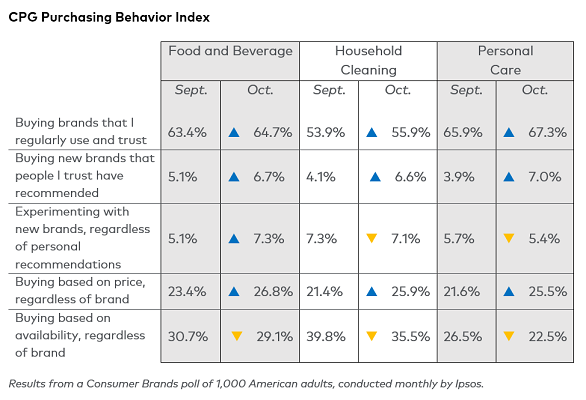 This month's slight decline may signal the beginning of a cooling in consumers' response to COVID-19 as they move to less aggressive pantry filling — a change that could quickly reverse with a second wave of the virus. While spending both overall and on CPG products has stayed strong, price consciousness rose across all categories this month, possibly a reaction to the reduced government fiscal support. Household cleaning, specifically, saw the most change with consumers buying based on price regardless of brand. It also saw the biggest drop in consumers buying based on availability regardless of brand, signaling greater recovery in supply as household cleaning manufacturers continue maximizing production.
Consumer confidence and jobs rise. Consumer sentiment, as measured by the University of Michigan, rose in September. The final reading was 80.4, a notable gain from 74.1 in August, though still down more than 20 points since February. The September jobs report added 661,000 payroll jobs. Although down from the 1.5 million jobs added in August, there was notably a strong breadth of job gains across private sector industries. Meanwhile, the unemployment rate fell to 7.9%, due in part to fewer people looking for work or entering the workforce.
Jan-20
Feb-20
Mar-20
Apr-20
May-20
Jun-20
Jul-20
Aug-20
Sep-20

Consumer Sentiment
99.8
101
89.1
71.8
72.3
78.1
72.5
74.1
80.4
Looking Ahead

Will Congress reach a deal on additional stimulus funding? Another round of fiscal policy has been the subject of fierce debate in Congress and with the White House. While the performance of the third quarter economy was supportive of the recovery, the backdrop has changed with the end of government income support.

How will a failure to reach a stimulus deal affect CPG? In many cases, stimulus funding has gone to CPG products. The U.S. Census Bureau's Household Pulse survey found that food items were the most likely category Americans used stimulus payments for; household supplies and personal care products were third on the list, behind utility bills.

How much will the economy slow in the fourth quarter? Economic forecasts show the economy will slow between 3.5 and 4% in the fourth quarter. Real-time gauges of economic activity, such as the Federal Reserve's weekly economic indicator, confirm some flattening of economic activity after improving in August.  The index moved from a -4.81 on September 3 to a -4.62 on October 4. The Conference Board's Leading Economic Index rose by 1.2% in August, but according to Ataman Ozyildirim, senior director of economic research at The Conference Board, "weakening in new orders for capital goods, residential construction, consumers' outlook and financial conditions point to increasing downside risks to the economic recovery."
With a pivotal election just three weeks away and a virus that continues to ravage American life, the U.S. economy is plagued with uncertainty. All this tumult coincides with a holiday season that threatens to upend not only cultural traditions, but economic norms.
About This Research
Consumer Brands' CPG Economic Pulse analyzes the totality of the industry — food, beverage, household and personal care products — to offer a timely look at an industry that contributes $2 trillion to the U.S. economy and supports more than 20 million jobs.
The data in this report is released on a rolling calendar schedule. The figures presented are current at the time of publication and are subject to updates and revisions.
Methodology
Economic analysis provided by JEK Analytics.
The CPG purchases data is derived from U.S. Bureau of Economic Analysis reporting.
Estimates include food, nonalcoholic and alcoholic beverages for off-premises consumption; food purchased and consumed on farms; nonprescription drugs, household supplies and personal care purchases; and net purchase of goods by U.S. residents abroad.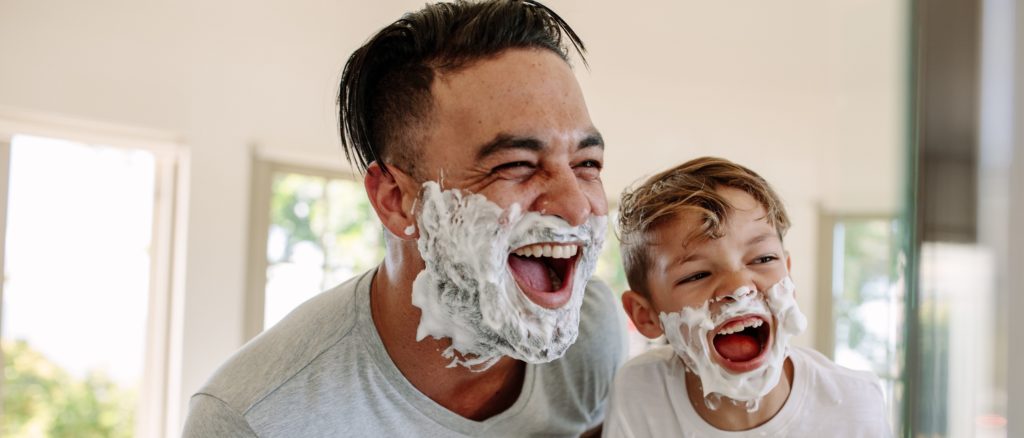 The Economic Contributions of CPG
The CPG industry is the largest manufacturing employer in the United States. The food, beverage, household and personal care products that the industry makes have a positive impact on the lives of every American, every day.
Our Updates, Delivered to You
Receive the latest updates from the Consumer Brands Association.