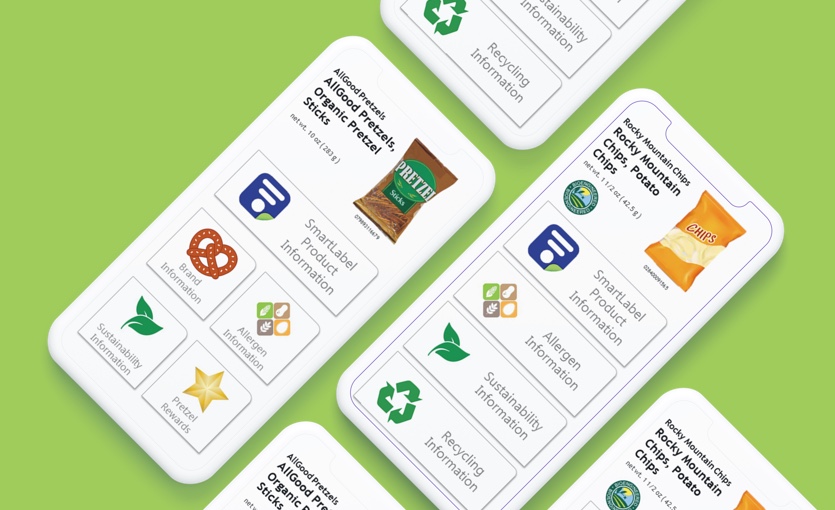 Press Release
Consumer Brands and The Recycling Partnership now offer consumers localized recycling data on product packaging through QR codes
Initiative aims to reduce consumer confusion, boost recycling rates
ARLINGTON, Va. – The Consumer Brands Association and The Recycling Partnership are teaming up to provide consumers with up-to-date, localized recycling instructions directly on product packaging through SmartLabel, Consumer Brands' digital QR code labeling platform. Now, consumers can scan the thousands of products already using SmartLabel to access The Recycling Partnership's Recycle Check, a package-specific, data-driven solution to help navigate the complex recycling system.
"Consumer confusion about recycling capabilities in their neighborhoods has been a longstanding challenge," said Rishi Banerjee, senior director of SmartLabel at Consumer Brands.
"The new ability to integrate Recycle Check local recycling information into SmartLabel means consumers can find out exactly how to recycle products in the zip code where they live – eliminating common questions about what is accepted for recycling and whether the cap should stay on, or a label should be peeled off."
How it works: For SmartLabel products now integrating Recycle Check, consumers can scan the QR code on the package, then enter their zip code or allow location permissions to access clear instructions on how and whether to recycle that product in their specific location.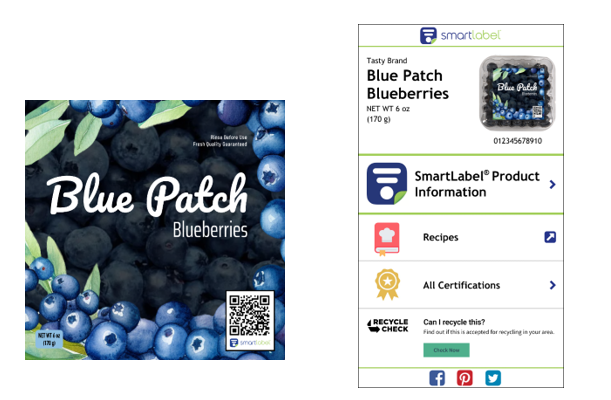 Example of SmartLabel and Recycle Check technology on product packaging (view demo)
The current, fragmented recycling framework nationwide has resulted in a patchwork of nearly 10,000 local recycling programs throughout the country, each with their own set of rules. According to research from The Partnership, 78% of respondents look at packaging labels to know whether a product is recyclable, but 63% still report confusion even after looking at the label.
"Recycling confusion is a key factor in the two-thirds of household recyclables wasted each year. With eight in ten people saying recycling is worth the effort, we have an opportunity to provide clarity to combat the loss of recyclables," said Sarah Dearman, chief innovation officer at The Partnership.
"Providing clear, dynamic recycling information will be especially important as state-level policies change recyclability claims requirements."
Consumer products companies have already begun announcing plans to utilize Recycle Check, as Consumer Brands encourages the further adoption of SmartLabel.
"Consumer Brands appreciates The Recycling Partnership's development of a new tool that can work in conjunction with SmartLabel to provide consumers with the information they need to ensure their recycling efforts line up with the rules specific to where they live," Banerjee said.
"I'm confident our collaboration on this issue will help move America's recycling rates in the right direction, and I look forward to integrating even more valuable resources into SmartLabel in the future."
###
The Consumer Brands Association champions the industry whose products Americans depend on every day, representing nearly 2,000 iconic brands. From household and personal care to food and beverage products, the consumer packaged goods industry plays a vital role in powering the U.S. economy, contributing $2 trillion to U.S. GDP and supporting more than 20 million American jobs. SmartLabel is Consumer Brands' nimble, adaptable digital platform launched by national brands and retailers in major grocery categories to give consumers access to more detailed product information than could ever fit on a physical package.  
The Recycling Partnership is a mission-driven NGO committed to advancing a circular economy by building a better recycling system. We mobilize people, data, and solutions across the value chain to reduce waste and our impact on the environment while also unlocking economic benefits. We work on the ground with thousands of communities to transform underperforming recycling programs; we partner with companies to achieve packaging circularity, increase access to recycled materials, and meet sustainability commitments; and we work with government to develop policy solutions to address the systemic needs of our residential recycling system and advance a circular economy. We foster public-private partnerships and drive positive change at every step of the recycling and circularity process. Since 2014, we have diverted 770 million pounds of new recyclables from landfills, avoided more than 670,000 metric tons of greenhouse gases, and driven significant reductions in targeted contamination rates.
Published on August 9, 2023
Our Updates, Delivered to You
Receive the latest updates from the Consumer Brands Association.