UPDATED JAN. 18
Now 28 days in to the longest government shutdown in history, the cracks are starting to show. The compounding effects of the shutdown are being felt well beyond the Beltway and the lingering damage threatens to last for months, if not years.
Political Situation Shows No Signs of Improving
House Speaker Nancy Pelosi requested President Trump postpone the State of the Union address, citing security concerns, until the shutdown is over. Trump retaliated on Thursday, canceling a planned congressional delegation to Afghanistan, Egypt and Belgium. In short, there's no evidence a compromise is on the horizon.
Economic Effects Worse Than First Thought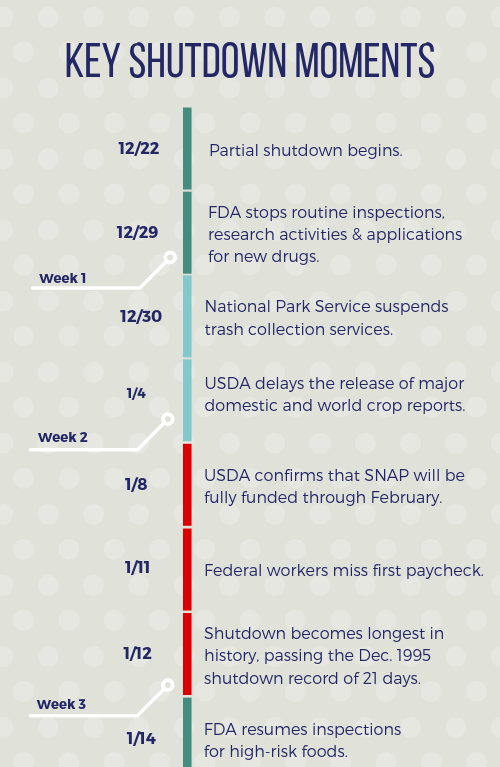 By the administration's own estimate, the cost to the U.S. economy is swelling and far greater than its first assessment. Wall Street analysts reportedly fear zero growth in the near term, but are concerned about the longer term implications. "The protracted impasse could convince consumers and businesses that the federal government will spend all of 2019 on the brink of crisis — whether on the border wall, trade with China or the debt limit," wrote Politico's Ben White. "That could choke business investment and consumer spending, bringing an end to one of the longest economic expansions on record."
FDA Resumes Some Inspection Activity
The announcement that FDA would stop routine food inspections spurred rampant consumer confusion, as addressed in our recent blog. As of this week, tens of thousands of federal employees have been called back to work (unpaid), including at the FDA, where high risk food inspections and sampling have resumed.
Government Employees Look for New Opportunities, Prolonging Negative Effects
Job search site Indeed.com reported that federal employee job searches are up 17 percent since the start of the shutdown. Replacing departing staff — particularly for highly skilled jobs like food inspectors — will take months, dragging the negative effects of the shutdown beyond its end date, whenever that may be.
The CPG industry, federal employees and the American people should not be collateral damage of a political fight. It is past time for Congress and the White House to come together to resolve the issue before it gets any worse.
POSTED JAN 11.
---
The standoff over $5.7 billion in border wall funding that led to the federal government being shuttered 21 days ago threatens to become the longest in history if it extends until tomorrow. Beyond historical implications, today marks a critical point in this political battle as federal employees miss their first paycheck since the shutdown began.
Political Environment Today
While the situation could change by the minute, at present, both President Trump and congressional Democrats are dug in on their positions and show no signs of yielding. Trump reportedly walked out of a meeting with Democrats at the White House on Wednesday and Speaker of the House Nancy Pelosi (CA) has been vocal about her belief the wall is "immoral." There has been some softening of Senate Republicans — Senators Lisa Murkowski (AK) and Shelley Moore Capito (WV) have indicated a willingness to reopen government, and Senators Cory Gardner (CO) and Susan Collins (ME) are both up for reelection in swing states next year — but the number is not substantial enough to reopen the government at this point and Senate Leader Mitch McConnell (KY) has said he will not call for a vote without Trump's approval.
What it Means for the CPG Industry
Three weeks in, the cascading effects of the shutdown are hitting the CPG industry. We are tracking the developments and consequences as this shutdown drags on.
Stoppage of routine inspections may make Americans nervous about the safety of their food.
A rash of coverage this week about FDA's inspections being halted by the shutdown gave reason for Americans to question the safety of their food. While this anxiety is understandable, the real effect should be minimal. FDA uses a risk-based approach to target inspections. POLITICO's Helena Bottemiller Evich tweeted that routine inspections were "not really comparable to fire response. Maybe more like fire marshal inspections. [For what it's worth] FDA foodborne illness outbreak investigations & response, high-risk recalls, etc., continue through shutdown."
The Consumer Brands Association's science lead, Dr. Betsy Booren, confirmed "if there is a food safety outbreak, rest assure that there is a process and team in place that will be activated — in issues of public health, these agencies are still working."
Regulatory issues are at a standstill with significant uncertainty.
The government shut down just two days after the new bioengineered disclosure standards were announced, leaving it in regulatory limbo. Other key issues like the nutrition facts panel, Dietary Guidelines and development of industry guidance are also on hold. Further, when the government does open, it is not a simple flip of the switch, and it will likely take time to ramp back up.
It is costing the industry money as tariff exclusion requests go unconsidered.
CPG suppliers looking for exclusion requests on steel and aluminum tariffs are unable to have their requests granted — or even considered — by the Department of Commerce. Three weeks of requests and counting add to an existing backlog of requests yet to be processed, exacerbating the delays.
The CPG industry is intensely focused on creating sustainable and environmentally responsible packaging. As visuals of overflowing waste in America's National Parks have come to represent the shutdown, it is clear that trash and recycling pickup should be considered an essential function.
With trash service suspended at National Parks, the pileup of waste has become a consistent visual of the effects of the government shut down. The CPG industry has committed to sustainable packaging and has made great progress, and it is disappointing to see the images of trash improperly disposed of cluttering national treasures. Environmental responsibility should not be abandoned in political fights and waste pickup should be made an essential function even during government shutdowns.
Information and scientific innovation is limited with government research halted.
With research at agencies like USDA and National Science Foundation at a standstill, and key indicators like jobs and retail sales numbers not being released, information that CPG businesses rely on is not coming through and may be slow to recover.
Government workers are shaken and looking for employment elsewhere, leading to unknown and long-term impacts even after the shutdown ends.
The uncertainty over paychecks in a time of low unemployment makes for fertile recruiting ground. Reports of workers calling in sick to work at or interview for other jobs and higher rates of turnover during the shutdown are starting to roll in. In addition, workers hired before the shutdown are stuck waiting to start. At FDA, where there are 1,400 vacancies, onboarding and recruitment efforts are at a standstill.