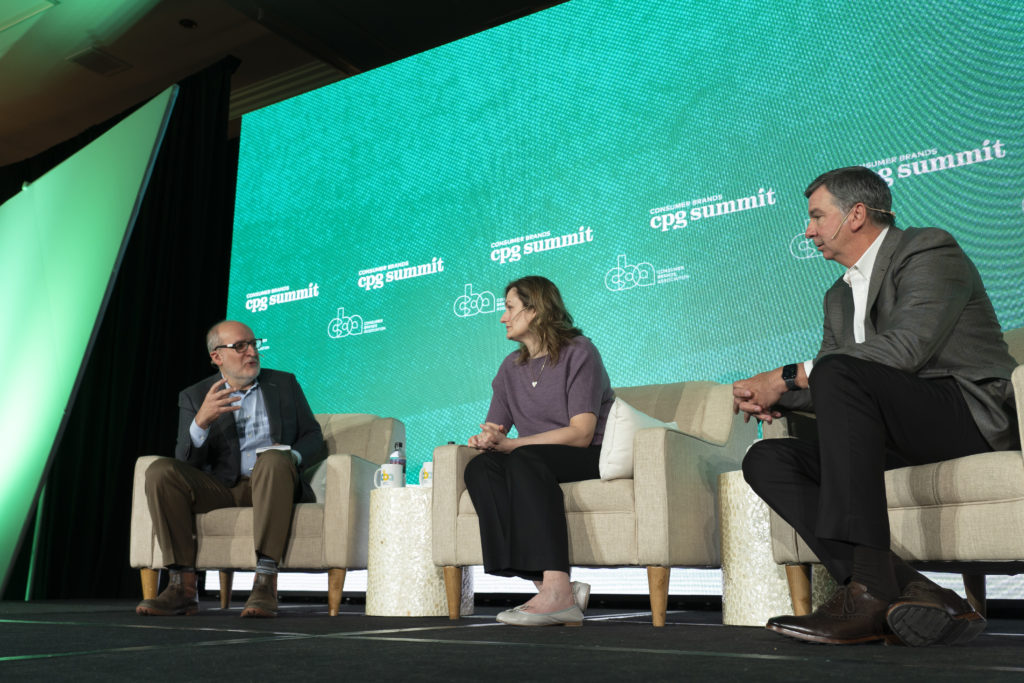 Blog
Navigating the Speed and Flux of Consumer Trust
What does it mean to operate at the 'speed of trust'? For CPG brands whose mission is to deliver essential products people rely on every day, it means doing whatever it takes to show up — for consumers and their employees — and knowing that trust is a barometer that can change in a moment.
Paul Leinwand, principal with PwC's strategy consulting group, led a conversation with Linda Rendle, CEO of The Clorox Company, and Jim Snee, chairman of the board, president and CEO of Hormel Foods on their experiences building trust.
The conversation identified three themes that have bearing on trust:
Transparency can lead to understanding without erosion of trust.
Listening informs the pathway to greater trust.
Your employees are the foundation of trust.
Transparency leads to understanding:
The pandemic created demand so significant, it wasn't possible for Clorox to meet it. There were fights in stores aisles, calls begging for product and even people knocking on the door of her home, Rendle said.
"This brand stands for being where you need us to be and we're not right now," she said of her thought process at the time. "We wanted to drive transparency, so we talked throughout the pandemic about what we were doing."
That meant prioritizing and being very open about the process. But saying very clearly that getting products to hospitals was the first priority led to understanding and helped create more trust with consumers. Clorox took remarkable steps to accelerate production and, in the process, became one of the most trusted brands in the U.S. "What a moment to sit and realize how much you meant to people," Rendle said.
Snee found transparency meant the difference for consumers when Hormel added natural and organic meat company Applegate to its family of brands. He anticipated consumer concern that the product would change, but also knew standing by the company's plan to keep Applegate the same could (and did) go a long way to assuage fears and maintain its base. "You have to have that confidence that someone is telling you that what they say they're going to do – they're going to do," Snee said.
Listening informs pathways to trust:
Bringing Applegate into the Hormel family also taught Snee the value of listening, finding that the new addition had a positive influence on the core business.
Snee expressed caution at the "quantification of trust" and the idea that it could be reduced to a metric, not meaningful action. "Listening to CNBC, I can't tell you often I heard the word trust thrown around," he said. "What are you going to do and, more importantly, why are you going to do it and how are you going to do it?
Both Snee and Rendle underscored they did not walk away from the lessons of the pandemic. "We tend to default to storytelling not story listening. We probably did that better during the pandemic and we need to not forget it," Snee said.
Employee trust is foundational to doing good work:
Rendle also wanted to ensure lessons from the pandemic were not lost as the world returned to relative normalcy. "We asked our employees to do the impossible during the pandemic," Rendle said. "If it connects to something they see as the purpose, it gets that extra discretionary effort."
Snee agreed, looking back on the experience of Hormel's facility employees who were in-person and asking themselves every day if they were far enough apart or had the PPE they needed. They had to trust that the company was looking out for them," he said. "We can't forget that there are some really valuable lessons we should carry forward to build trust with the employee base."
The business case for building trust is strong. "Employees need to trust the company and each other in order to get work done," Leinwand said.
Ultimately, trust is built by doing the right things across the entirety of the business. "It's about the brand promise that we have," Rendle said, who added that what the company stands for in the hearts and minds of consumers, acting as a good corporate citizen and having your employees' trust "has to be linked together and aligned."
This post offers takeaways from the 2022 CPG Summit, the premier gathering of industry leaders. The event is invite only, but follow the Consumer Brands blog and #CPGSummit on Twitter for content that offers a peek behind the curtain.  
Published on February 14, 2023
Our Updates, Delivered to You
Receive the latest updates from the Consumer Brands Association.