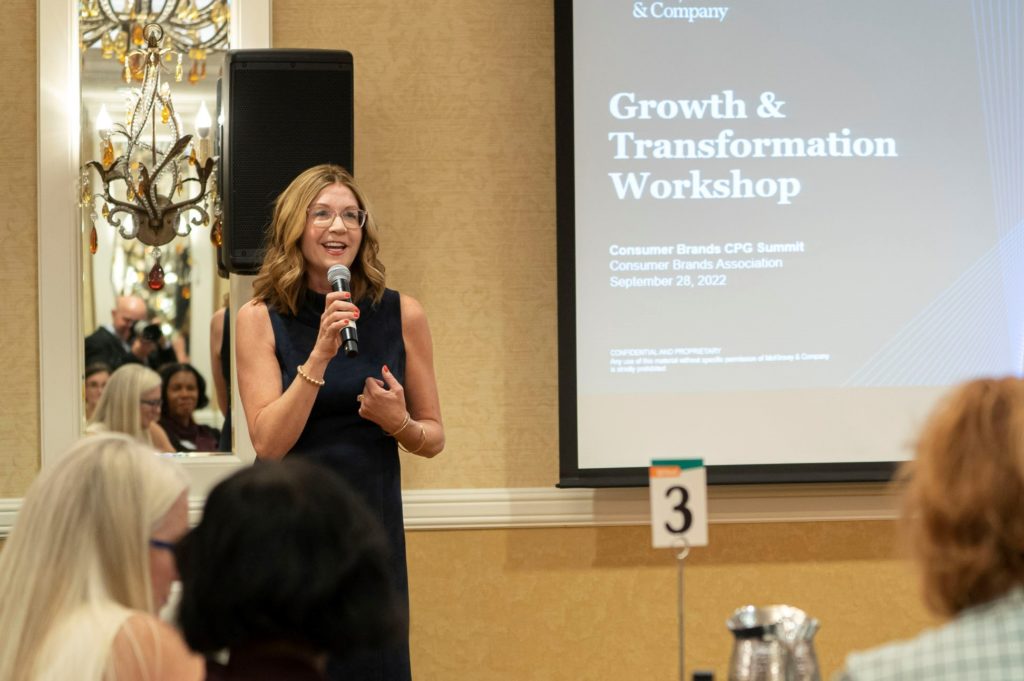 Blog
How Are You Choosing to Grow?

CPG Summit sponsor McKinsey & Company authored the post below. For more information, visit them here.
Growth is something every CEO and business leader aspires to deliver, but for many, it remains elusive. About a quarter of consumer companies don't grow at all, and between 2010 – 2019, only one in eight achieved more than 10 percent revenue growth annually.[1]  Sustained, profitable growth is possible, albeit challenging; however, it comes down to a "choice".
Do you, as a leader, make an explicit choice to grow? Or do you pay lip service to your growth ambitions but become overwhelmed by other challenges?
We recently had the opportunity to discuss this topic with a group of CPG leaders at our Growth & Transformation Workshop at the CPG Summit last week.
It starts with a conscious leadership choice
When sustainable, inclusive, and profitable growth becomes a conscious, resolute choice, it shapes decision making across every area of the business. Growth becomes the oxygen of an organization, feeding the culture, elevating ambitions, and inspiring a sense of purpose. Growth leaders generate 80% more shareholder value than their peers over a ten-year period. Beyond creating shareholder value, growth attracts talent, fosters innovation, and creates jobs.
The leaders who choose growth and outperform their peers not only think, act, and speak differently; they align around a shared mindset, strategy, and capabilities.  80 percent have a growth story they tell all the time—communicating growth successes often, internally and externally. In fact, growth leaders across the C-suite are 70 percent more likely than peers to have growth as their top priority.
Achieving extra-ordinary accretive growth is challenging. The time to act is now.
Across the consumer sector, average growth from 2009 to 2019 was 3%. Smaller companies (with $300 million to $3 billion in annual revenue) grew fastest at a rate of 5.2%. It was far more difficult for large companies to grow: companies with more than $10 billion in annual revenue grew at only 2.4%.
Achieving rapid growth helps to beat the odds, but growth alone won't satisfy demanding investors. Companies are expected to grow quickly while also expanding margins.
Within the consumer sector, about 30% of companies were able to drive extraordinary growth of greater than 6% CAGR between 2009 and 2019. But if one looks more closely, only about 40% of those fast-growing companies—or just 12 percent of all public companies in the consumer sector with more than $300M in annual revenue—grew faster than 6 percent per year while also expanding EBIT margins.
Let's call that elite 12 percent the "extraordinary accretive growers."  Their combination of rapid growth and expanding margins rewarded investors with median total shareholder returns (TSTR) of about 20% a year. That's 2.5 times greater TSR than the median for the rest of the sector.
What it takes – the growth triathlon
Profitable growth outperformance is the trophy here, but it's no easy feat. Is there one winning strategy guaranteed to achieve that kind of growth? How can consumer companies achieve it?
When we study what distinguishes the extraordinary accretive growers from their peers, a pattern emerges. We frequently see that they don't do just one thing well, but instead execute along three distinct pathways.
Much like triathletes who are naturally gifted runners – but don't neglect their training as swimmers and bicyclists – companies with aspirations for accretive growth might be naturally inclined to develop on a particular growth pathway but are better off pursuing all three at once.
The three events in the consumer sector triathlon are growth via expanding the company's core, growing via adjacencies—including new categories and new geographies – and growing via breakout businesses.
If you are interested digging into more of the findings discussed above, and what it means to be a CPG triathlete, please explore two of our recent publications:
Choosing to grow: The leader's blueprint
The growth triathlon: Three pathways to extraordinary growth in the consumer sector
If you're interested in learning more, please reach out to McKinsey here.
[1] Statistics in this section are based on McKinsey's analysis of data from Corporate Performance Analytics by McKinsey and regulatory filings, for the period 2010-2019
Published on October 6, 2022
Our Updates, Delivered to You
Receive the latest updates from the Consumer Brands Association.