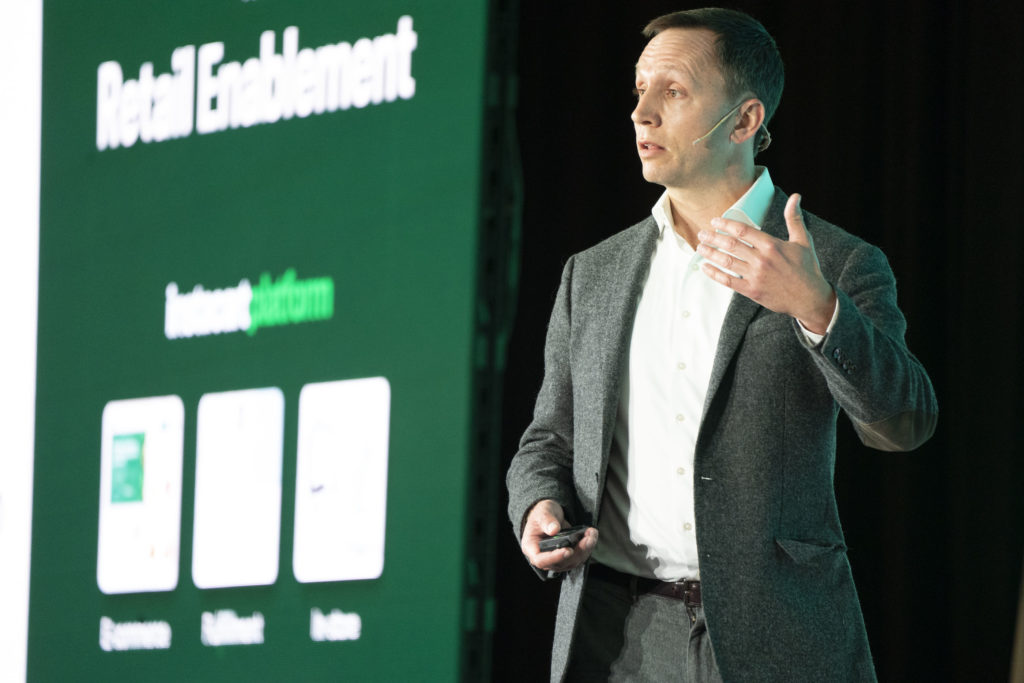 Blog
Supporting CPG Brand Growth Online and In Store

CPG Summit sponsor Instacart authored the post below. For more information, visit Instacart.
Last week, more than 100 CPG executives gathered for the Consumer Brands CPG Summit. The group heard from a range of speakers on the industry trends and challenges that CPGs are navigating today. In his Spark session, Josh Rider, VP of Brand Partnerships at Instacart, shared examples of the unique insights Instacart Ads provides to help brand partners grow and improve their business offline as well as digitally.
An Omnichannel Approach
Grocery is in the early stages of online penetration, and e-commerce still represents only 10% of annual grocery spend. Experts estimate that will rise to 21% by 2026.
"At Instacart, we believe that consumers will always engage with multiple channels to solve their grocery needs whether shopping in store themselves, starting an order online and picking it up in store, or having an order delivered," said Rider.
Earlier this month, the company announced Connected Stores, a bundle of six new Instacart Platform technologies that will help grocers build a unified, personalized experience both online and in-store, from smart carts to digital shelf tags.
Key Insights for CPG Brands
Instacart also works closely with CPG brands to provide them with unique insights.
"What's most exciting about blending channels between online and offline is the ability to learn and adapt much more quickly than in the past," said Rider. "Instacart is proud that we've been able to work with our brand partners to help identify new trends and insights that can improve their business in the digital space – and extend those findings to the physical shelf."
Instacart's network of shoppers can help the company's retail and brand partners understand product availability. Every hour, shoppers are marking items requested by consumers as "found" or "not found" on the shelves of over 75,000 stores across North America. This becomes actionable not only for e-commerce sales, but offline sales as well, given Instacart shoppers are picking from the same shelves as consumers.
In one example Rider shared, a CPG with their own fleet of store delivery vehicles leveraged this information to optimize the routes their drivers took, and inform which stores required additional cases. In partnership with Instacart, the CPG ran a six week test during which the brand reduced one of its "not found" rates by 6 points, meaning more customers were able to receive the exact product they wanted to buy. This translated into millions of dollars in additional sales not only via Instacart, but also for the CPG's in-store consumers.
Another key example was illustrated by emerging salsa and dips brand, Rojo's Dips. Rojo's was founded by a few friends in Los Angeles who couldn't find the kind of authentic layer dips they loved in the grocery store.
As a small business, Rojo's was aiming to expand their distribution in grocers carried on Instacart. Working with insights provided by Instacart, Rojo's leveraged their "weighted sales" trends and incorporated those insights into their conversations with potential new retailers. With these proof points in hand, Rojos expanded their distribution by nearly 10 points among retailers on Instacart, increasing their average weekly sales by 50%.
"I encourage each of you and your teams to, yes, think of e-commerce as a source of growth for your brands, but don't overlook the opportunity to take insights from this space and think about how to apply it across all channels," said Rider.
Published on October 6, 2022
Our Updates, Delivered to You
Receive the latest updates from the Consumer Brands Association.