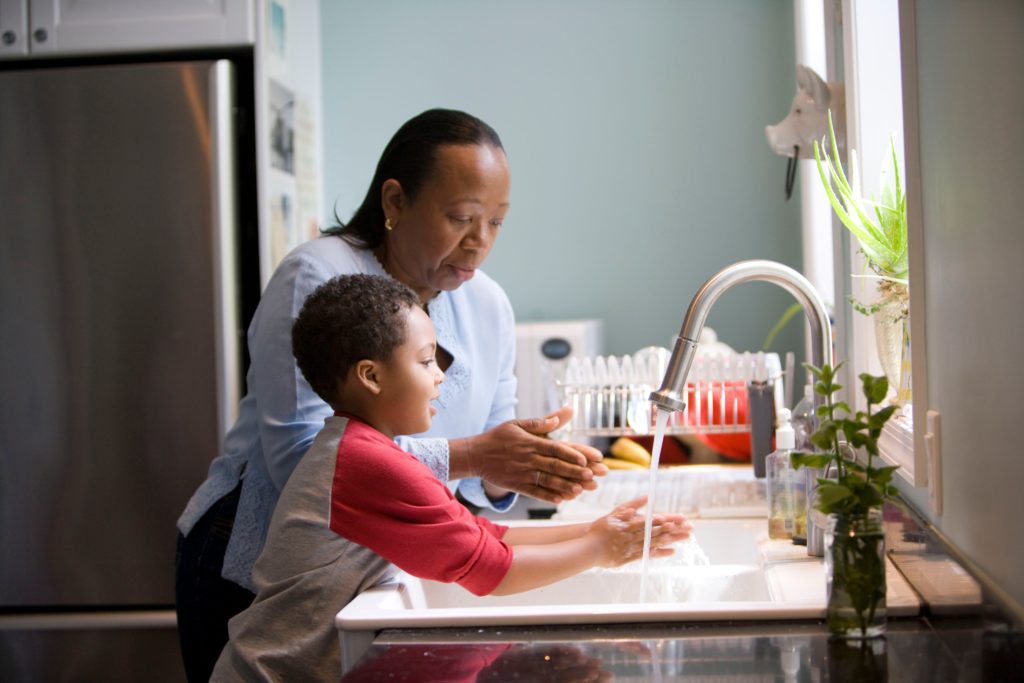 Blog
Latest Research: Americans Adjust to the New Normal of Coronavirus
The post below reflects survey results for the week of April 1. More recent survey results are available from the week of April 8. 
The weather is getting warmer and flowers are starting to bloom, but April's arrival this year is otherwise unusual — you won't see kids running home from the school bus or diners gathering on restaurant patios to enjoy a spring evening. Together, America is staying in to stop the spread of COVID-19.
For the fifth week, Consumer Brands conducted a survey of more than 1,400 American adults about the coronavirus outbreak and its effects — what their worries are, how they're preparing and when they think it will end.
Not surprisingly, 92 percent of Americans are concerned about the coronavirus, up slightly from 89 percent just last week. Accordingly, the number of people who have said they purchased supplies to prepare for the virus and its impact is up as well, from 67 percent last week to 69 percent now.
And though many Americans have reported seeing shortages of certain products, like toilet paper or hand sanitizer, they also say they've seen more items in stock lately — 56 percent of respondents reported seeing more availability and restocks of high-demand items. Concerns over access to essential consumer goods dropped slightly in most categories in the last week. Household cleaning products was the only category that did not see a decrease since last week, with concern up slightly, but not above the peak two weeks ago.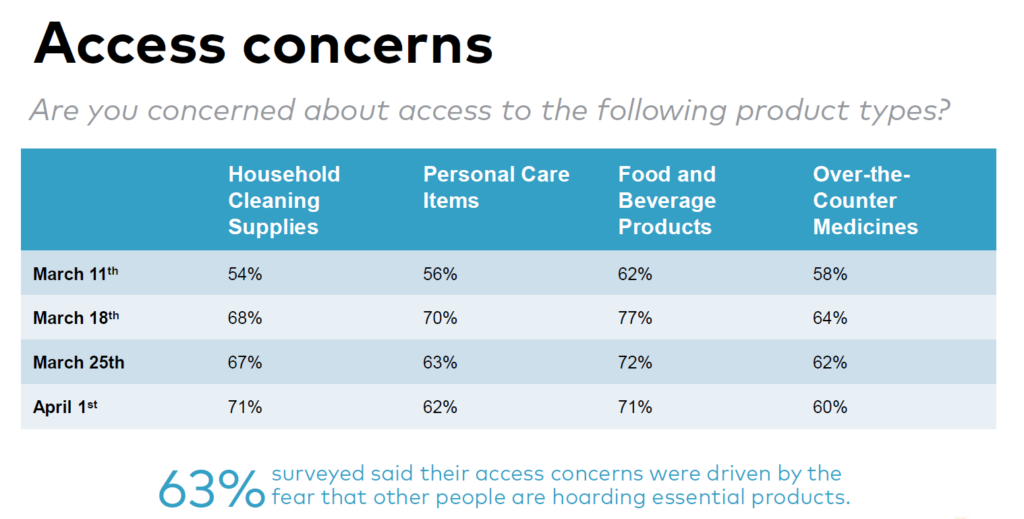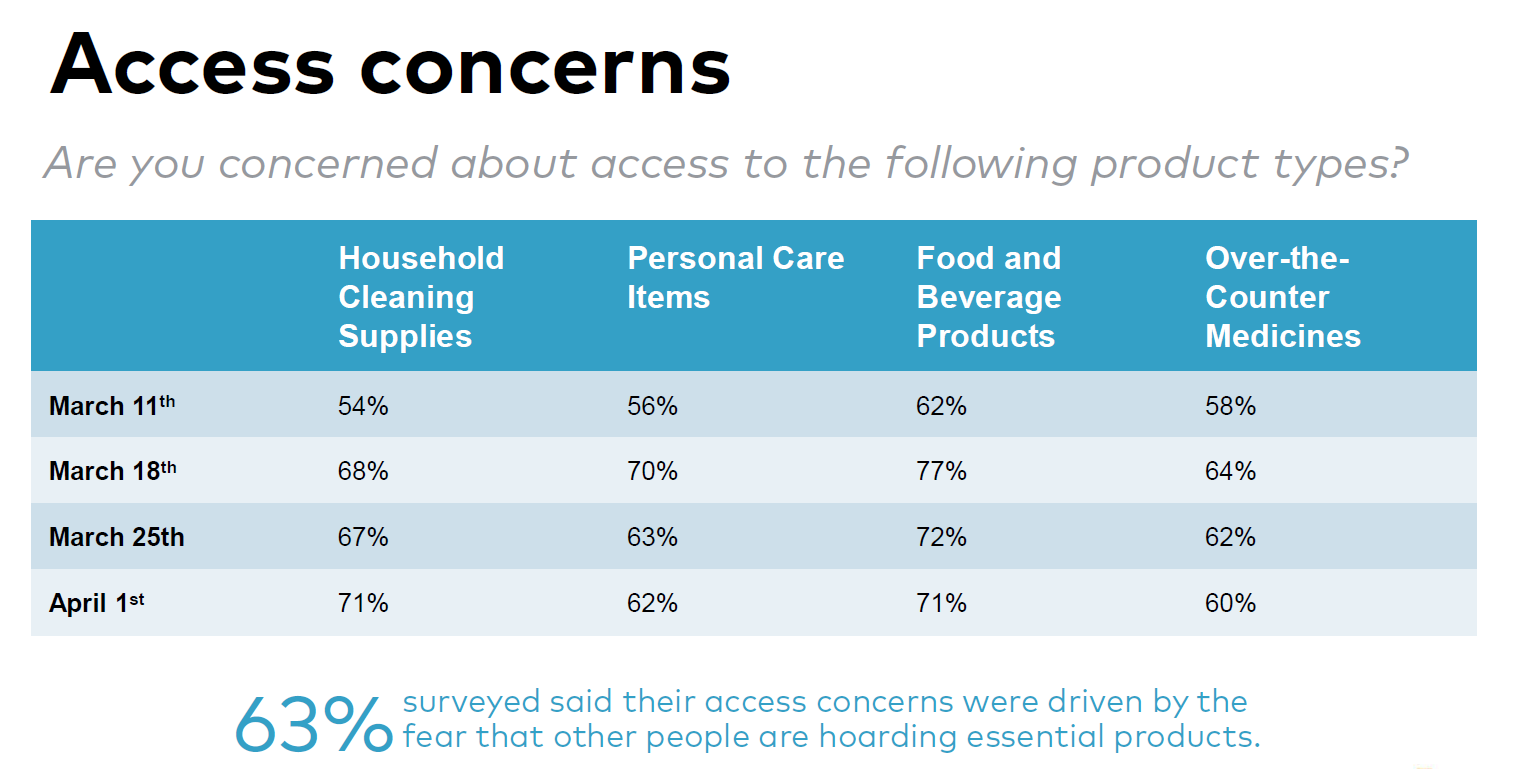 When asked if they've experienced difficultly purchasing high-demand items, consumers agreed that supplies like hand sanitizer (65%), toilet paper (62%) and disinfecting wipes (57%) have been the hardest to find. CPG companies are aware of these issues and are working nonstop to increase supply to meet this unprecedented demand. P&G recently shifted several of its manufacturing plants around the world to the dedicated production of hand sanitizer and face masks — once fully operational, the company will be able to produce at least 45,000 liters per week of Safeguard hand sanitizer. Many other CPG companies, including PepsiCo, Hormel, Clorox, Coca-Cola, J.M. Smucker, General Mills and more are ramping up production, rewarding front-line manufacturing workers with raises, bonuses and enhanced benefits.
Consumers are still well-stocked at home, with 42 percent reporting they are stocked with essential goods for two weeks or more and another 37 percent who are supplied for one to two weeks. Just three percent are stocked for two days or less, lessening the need for frequent shopping trips for most consumers.
Despite this challenging new normal, many Americans are optimistic about the coronavirus situation's end. Thirty-one percent of those surveyed believe that the major mitigation tactics against the coronavirus, including stay-at-home orders, city lockdowns and non-essential business closures, will end in April or May. Another 43 percent believe these policies will end by June or July. Sixteen percent said by the end of the summer, six percent said by the end of 2020 and four percent said sometime in 2021.
The sooner this ends, the better for Americans' financial situations. Concern over their family's ability to afford essentials and pay bills remained high this week, with 63 percent reporting that they had already experienced financial difficulties, up slightly from last week when it stood at 60 percent.
As the world continues to adjust to life in a pandemic, spring looks different for everyone. We hope the optimism that the curve will be flattened soon holds in the weeks ahead.
From providing original research, industry guidance and cutting-edge insights, to advocating on Capitol Hill and shaping policy that will have an impact for years to come, we are committed to delivering for our industry during this crisis. Stay informed.
Published on April 3, 2020
Our Updates, Delivered to You
Receive the latest updates from the Consumer Brands Association.