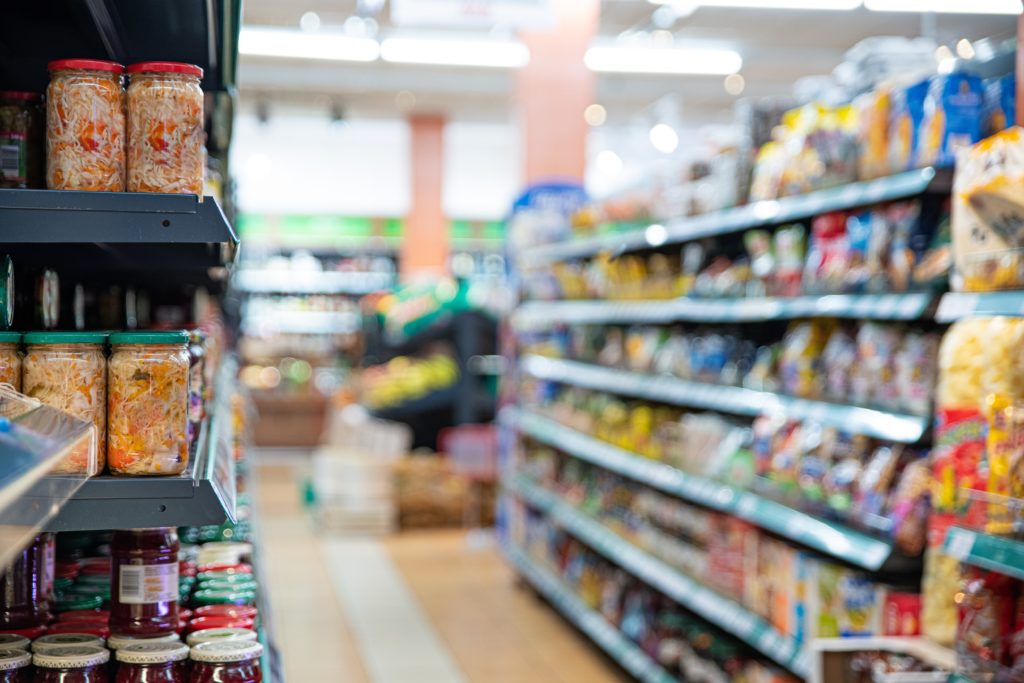 Blog
New Poll: American Sentiment on Grocery Inflation
A new Consumer Brands/Ipsos survey released today showed Americans continue to feel the pinch of grocery inflation and shift blame increasingly to supply chain costs and constraints, while recognizing solving supply chain challenges as a means of easing pricing pressures. New data also shows significant concern over a host of potential supply chain disruptors.
Inflation unexpectedly had the highest intensity of concern; a significant majority reported being at least moderately concerned about every issue polled. 

Grocery inflation is having a significant impact on American family budgets, and most Americans are limiting other spending to account for inflation. 71% of Americans said that increased grocery prices were having a very significant (31%) or somewhat significant (40%) impact on their household budgets. Only 7% said it was having no impact. To account for increased costs to their household budgets, more Americans are limiting their driving, large purchases or travel and entertainment than cutting grocery spending, which speaks to the essential nature of the CPG industry's products and the responsibility the industry feels to keep products as affordable as possible.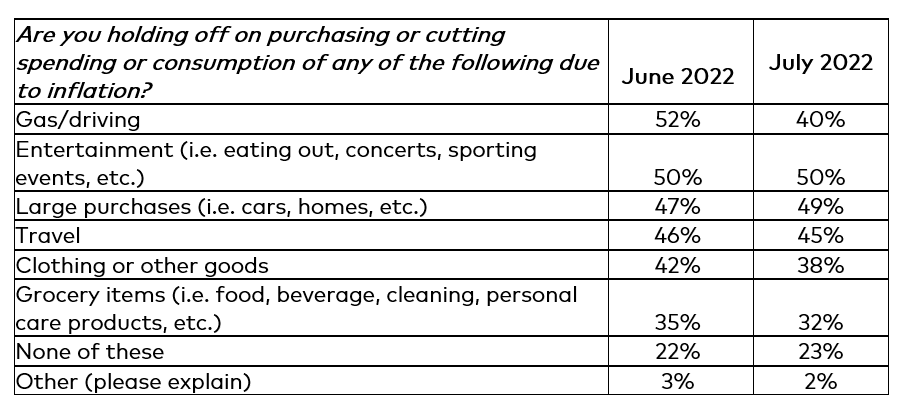 Grocery inflation blame has shifted considerably since February, with President Biden's policies and supply chain costs and constraints receiving more blame while substantially fewer Americans feel the pandemic is the primary driver. The pandemic lost its top spot as the most blamed reason for grocery inflation in June and continued to fall in July, dropping 12 percentage points from February. Nearly all of that change was picked up by supply chain costs and constraints, which jumped up eight points, and President Biden's policies, which claimed the top spot on a three-point increase. The changes are reflective of a volatile five months that has left the pandemic largely in the rearview yet has kept ongoing supply chain problems clearly visible.  

More Americans believe solving for the problems contributing to supply chain pressure will have a positive impact on inflation. Half of Americans (48%) said that tackling the supply chain would help ease inflation, up slightly from when the question was first asked in December 2021. While more Americans admitted to being unsure in July (25%) than they were in June (23%), only 15% said it would have no impact and just 11% said it would have a negative impact, down four points from December. Consumer Brands has called for supply chain solutions throughout the pandemic as a means of ensuring continued access and mitigating cost concerns.   

Methodology  
This Consumer Brands Association/Ipsos Poll was conducted August 5-8, 2022, by Ipsos using the probability-based KnowledgePanel®. This poll is based on a nationally representative probability sample of 1,018 general population adults age 18 or older.  
Published on June 24, 2022
Our Updates, Delivered to You
Receive the latest updates from the Consumer Brands Association.