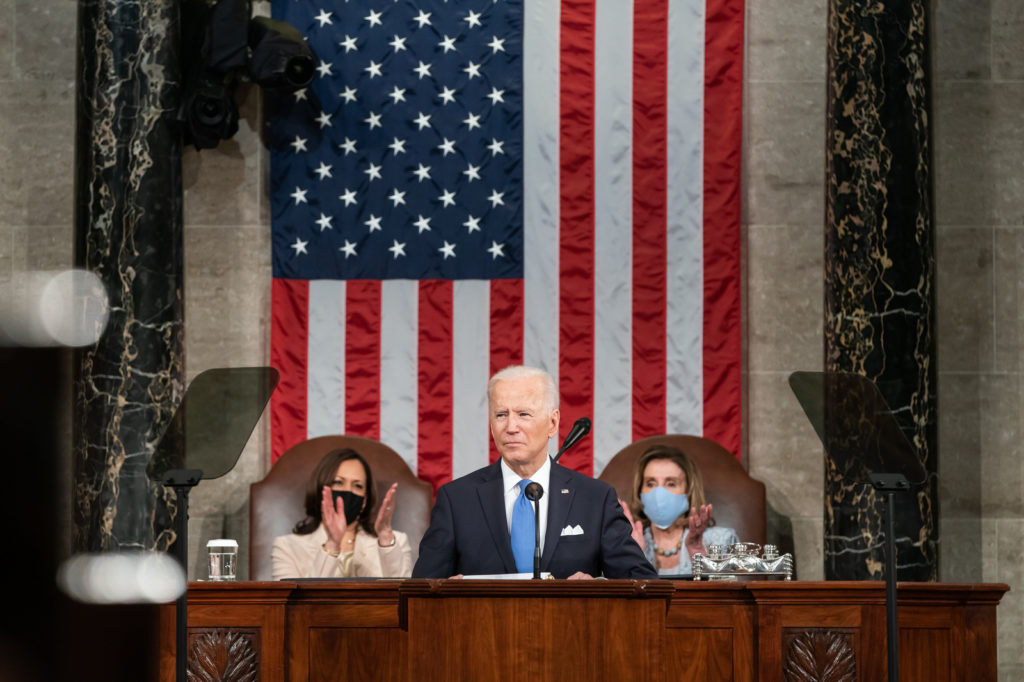 Blog
Three Quotes from Biden's State of the Union that Affect CPG (And One Curious Absence)
Consumer Brands put forward the CPG industry's expectations for President Biden's first State of the Union speech last week. Now that the address is in the history books, we're breaking down three of the president's comments, one curiously absent topic and what they mean for CPG.
"One way to fight inflation is to drive down wages and make Americans poorer. I have a better plan to fight inflation. Lower your costs, not your wages." 
With the cost to make and ship products hitting record highs, price increases are an undesirable yet unavoidable outcome of a difficult environment. CPG companies work to absorb as much price volatility as possible, but costs on raw inputs and shipping have been steadily rising for a year, all while consumer demand continues to grow. Some key CPG commodities have doubled in price since last year, and the cost of fuel needed to keep the supply chain moving has spiked 57%. Further, the Russian invasion of Ukraine is exacerbating cost pressures to make and ship products. Although the CPG industry imports only a small percentage of its raw ingredients and materials for U.S. production — primarily from Canada and Mexico — the fact that our wheat and corn are more likely to come from Kansas or Iowa won't matter as the economic effects of the Russian invasion will be global, putting pricing pressure on the entire market.
If the president wants to lower costs, the federal government needs to engage on supply chain issues that can make a difference. Nowhere is that opportunity clearer than in trucking capacity. Allowing modest increases in truck weights and flexibility on Hours of Service regulations help today, where efforts to bring visibility to the supply chain to spot problems before they happen and find efficiencies that fill empty trucks will help tomorrow.
Despite significant cost headwinds, the CPG industry has not lowered its wages. In fact, it's grown them by 9.2% since last year — nearly double the average national wage growth. Despite a hike in wages, Consumer Brands' analysis of January BLS data found that 7,987 CPG jobs were added last month, while the industry's job openings swelled to 132,000. This labor gap extends to industries up and down our supply chains — particularly trucking, which estimates that 80,000 drivers are currently needed.
If we do not address the labor crisis, the consequences will be untenable for American consumers. President Biden correctly stated that the economy has added 6.5 million jobs in the last year; however, there are still millions more sitting on the sidelines of the workforce. It is too soon to claim victory here. We need a strategy to increase labor force participation.
"Our economy roared back faster than most predicted, but the pandemic meant that businesses had a hard time hiring enough workers to keep up production in their factories." 
The supply chain crisis that has plagued the economy for the last year is showing no signs of abating. The president is correct that the pandemic has led to a hard time hiring: A Consumer Brands poll conducted at the end of February found that 91% of CPG companies found recruiting new manufacturing employees to be difficult.
Biden also referenced factories closing. CPG is an essential industry and we did not close at any point. CPG companies quickly pivoted and kept production up, thanks to the dedication of their employees. We heard stories from our members who shared their employees felt their job had become a purpose and that they were serving their country by coming to work every day. No doubt they were, keeping up with demand at the most uncertain of times to ensure people had the products they depended on — products that, unlike furniture or exercise equipment, they couldn't wait for.
President Biden also touched on "the revitalization of American manufacturing" and "the rebirth of the pride that comes from stamping products 'Made in America.'" That pride resonates across the CPG industry. Our products are made in America. Very little is sourced beyond our borders and we are proud to employ more than 2 million Americans.
"We're done talking about infrastructure weeks. We're going to have an infrastructure decade."

Hear, hear! The American Infrastructure and Jobs Act was a bipartisan victory worth celebrating. We appreciate the president's graciousness in thanking members from both parties and for the leaders on the Hill who shepherded this bill to become law in November.
In the infrastructure decade ahead, we look forward to seeing how critical investments in our roads, railways, bridges and ports make us more competitive, and how longstanding CPG priorities like expanding rural broadband access, increasing federal funding for recycling infrastructure and growing the transportation workforce through apprenticeship programs and skills development initiatives will make America more competitive and resilient.
What President Biden Didn't Say
In the nearly one hour and two minute speech, there was almost no mention of the environmental agenda that has been core to the Biden-Harris administration. Granted, the speech came on the heels of Russia's invasion, so the limited references to sustainability may not be indicative of the value they have in the administration's agenda so much as they are the result of shifting priorities right before Biden took the podium.
Still, with little time spent on any sustainability topics, recycling did not make the cut in the speech as Consumer Brands had hoped. Still, it is an important part of the environmental agenda and shouldn't be overlooked in policy. A significant boost to the recycling rate has the potential to reduce carbon emissions by 515 million metric tons — equivalent to taking 50 million cars off the road. Capitalizing on that potential will require fixing a badly broken and confusing system. Our asks of the president stay the same: get the right data; standardize recycling definitions.
What the president says in the State of the Union matters. But what he does in its wake matters even more. As the nation moves forward, Consumer Brands will continue to dialogue with the administration on policies that affect our essential — and consequential — industry.
Published on March 3, 2022
Our Updates, Delivered to You
Receive the latest updates from the Consumer Brands Association.