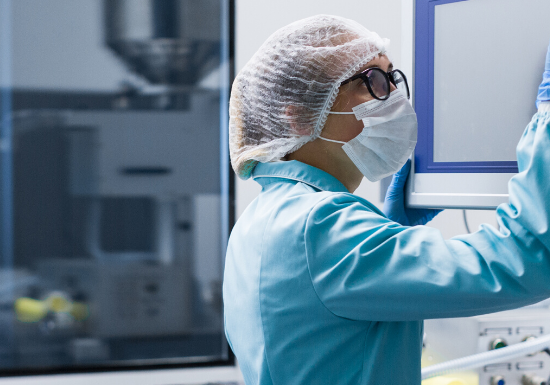 Blog
Protecting the CPG Workforce and Producing What America Needs
America's CPG industry has been critical to COVID-19 pandemic response. Not only is it responsible for manufacturing the products that allow every American to be home during this pandemic, it is also serving essential businesses like hospitals and schools with the things they need to remain open, like cleaning and disinfecting supplies. Without the 1.7 million Americans who make up our essential workforce, none of this is possible.
Ensuring the care and safety of its essential workforce has been mission critical for CPG companies — through this pandemic, and always.
While the average consumer may not think about the people behind the boxes on the shelves as they roll their shopping cart by, this is a human powered industry that has worked tirelessly behind-the-scenes to deliver. Ensuring the care and safety of its essential workforce has been mission critical for CPG companies — through this pandemic, and always.
When your industry makes everything from toilet paper to bleach to cereal, there's no one-size-fits-all approach to keeping manufacturing facilities and employees safe. There's also no static playbook for what will keep them safe. As understanding of COVID-19 evolves, so too does the way the CPG industry is responding to it and working to stay ahead of it.
Keeping Workers Safe
A survey of 23 CPG companies shows that myriad best practices have been put in place to protect its workforce. Every company surveyed reported implementing the following worker safety measures:
Additional health screening and monitoring protocols.
Employee screening stations.
Modified break/lunch areas to reduce likelihood of exposure and spread.
Additional handwashing/sanitizing stations.
Enhanced hygiene protocols.
Required facial coverings (masks/shields).
The list above shows the commonalities across CPG manufacturing facilities; however, every manufacturing facility is unique and must address workforce safety accordingly. For example, in some facilities physical distancing as recommended is not possible, but in those instances, physical barriers can be installed.
Alongside changes CPG companies made to their protocols, guidance from federal, state and local agencies was being issued rapidly. The majority of CPG companies reported getting new guidance at least once a day (30%) or multiple times a week (35%). Remarkably, as federal, state and local governments have added or modified guidelines daily throughout the first six months of COVID-19 crisis, 90% of CPG companies surveyed reported going over and above that guidance, showing the clear commitment the industry has to creating a safe work environment.
Many of the changes that were made in response to COVID-19 will become long-term or even permanent. Survey respondents indicated in many cases that the additional handwashing and sanitizing stations (61%), enhanced hygiene protocols (57%), modified workstations (50%) and break and lunch areas (44%) would become permanent. A smaller number (26%) shared that the employee health screenings would be par for the course going forward.
CPG Worker Safety is Consumer Safety
The people of the industry are the most critical piece of the CPG supply chain. Without them, we couldn't have cleaning products, toilet paper, baby formula and other essentials we depend on every day. Protecting the CPG workforce does more than keep our employees safe, it protects consumers as well, manufacturing what they need to stay home and what they need to go out when necessary, like disinfecting wipes and hand sanitizer.
Protecting the CPG workforce does more than keep our employees safe, it protects consumers as well.
Typical absenteeism at CPG companies hovers around three percent. But suspected or positive cases of COVID-19, along with contact tracing, has caused absenteeism to rise to eight percent. In individual instances, facility absenteeism has triggered full shutdowns. Absenteeism beyond the normal rate has a significant impact on productivity. Across the industry, every one percentage point increase over normal absenteeism threatens a $6.2 billion decline in annual productivity. To put that decline in perspective, that's equivalent to a month's worth of groceries for 6.3 million families.
Fortunately, American families haven't felt that pain, despite the 8% absenteeism average right now. CPG companies have made unprecedented shifts to ensure high levels of production, from running 24-hour, seven-days-a-week shifts to changing their distribution methods entirely to meet demand.
A Continued Commitment to Investing in People
The people who walk through our industry's doors every day are the most critical piece of the supply chain. The industry has invested in significant protections to make the workplace safer during COVID-19 and remains committed to doing so.
A study of C-suite leadership at 21 CPG companies conducted by McKinsey, in partnership with Consumer Brands, found that since the start of the pandemic, investment into areas like manufacturing, warehousing and transportation were all elevated and, while some could return to pre-pandemic levels this year, many companies anticipate higher rates of investment to continue even as growth slows.
Specifically, McKinsey found that in 2020, COVID-19 incentive and overtime pay elevated labor expenses between five and 20 percent, an increase that is expected to remain in 2021. Warehousing expenditures follow a similar pattern, due in large part to increased labor spending, something that CPG leaders anticipate will continue this year.
Supporting Greater Timeliness and Efficiency
There are, however, limits to what companies can do on their own. As the nation moves forward, there are lessons from COVID-19 that should translate to government policy that supports the CPG industry's workforce.
Near-term, our essential employees must be vaccinated. We are all familiar with the consequences and can remember the empty shelves last spring; however, shortages last spring were driven by panic-buying and were quickly corrected. Significant loss in essential personnel does not offer the same quick recovery. As the most critical part of the supply chain, their absenteeism is a direct threat to American consumers getting the products they depend on every day. Ensuring that states follow the CDC's recommendation that CPG's essential workforce is included in Phase 1b for the vaccine guards against shortages of critical goods.
Longer-term, there are several opportunities that will serve the country as it continues to fight COVID-19 and as it emerges from it that appear in our recommendations of ten critical policy changes adopted during the pandemic that should be made permanent.
The CPG industry will continue to evolve its response to this pandemic as the science and understanding of COVID-19 changes. It will also continue its clear commitment to its people who have made all the difference — to pandemic response and every day.
Published on March 1, 2021
Our Updates, Delivered to You
Receive the latest updates from the Consumer Brands Association.