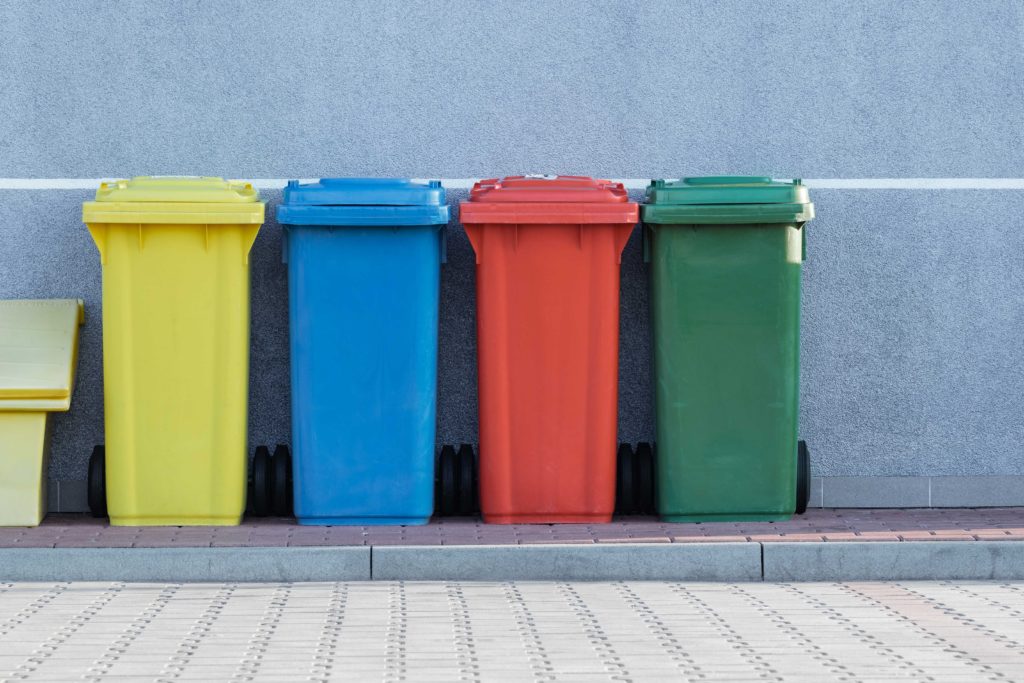 Blog
The Waste Industry's Perspective on Recycling
We have a waste crisis. Too much recyclable material goes into landfills or, even worse, into the environment. Meanwhile, we also have an outdated, broken recycling system in the United States that is a major contributing factor. These are big problems. They're also solvable.
In order to clean up our environment and keep this valuable material in the supply chain to be used again, we need to roll up our sleeves and work with every stakeholder. As part of the Recycling Leadership Council's (RLC) ongoing dialogue with those stakeholders, we invited representatives from the waste and recycling industry to share their unique perspective on the issue.
David Biderman, executive director and CEO for the Solid Waste Association of North America (SWANA); Larry Logan, chief evangelist for Digimarc Corporation; and Susan Robinson, senior director of sustainability and policy for Waste Management, joined the RLC for a robust and frank conversation about America's recycling problem.
Logan kicked things off, sharing Digimarc's work to advance recycling technology and traceability around the world. The company has created the "digital watermark," a barcode that enables any object or media to be identified to reduce food waste, lessen manufacturing errors, protect the authenticity and security of products, reduce plastic waste, promote consumer engagement and more.
"We're creating a digital identity inside packaging that has utilization throughout the entire packaging journey," Logan said.
With virtually unlimited digital codes and data, the Digimarc platform can identify a product's specific manufacturer, if the product has food versus non-food packaging or the number of layers of packaging. Even opaque or black packaging, which has been a challenge in the past, can utilize the digital barcode and inform the system what that package consists of. These breakthroughs in technology are helping to unlock a truly circular economy and give consumers the knowledge to responsibly dispose of their waste.
"Here's an opportunity where consumers using their smartphones can point to a package and receive information about the recyclability of that package, even down to its geolocation," he said. "It's also an opportunity for brands to engage. From storytelling about the product to what the sustainability practices are of that particular brand."
Next, Robinson presented on behalf of Waste Management, the largest residential recycler in North America, to talk about their efforts to increase sustainability and the challenges facing the industry.
"Residential recyclables are about a third of the recycling that happens in the United States," she said. "It's a relatively small piece of what we manage but it certainly has the most attention and we spend the most time and investment on it."
Though COVID-19 has increased residential volumes, commercial volumes are down, resulting in an uneven but similar flow of overall tonnage. Municipal budget cuts are also beginning to impact the amount of material collected through residential programs, as many states and cities constrict their budgets due to lost revenue from the pandemic.
Robinson also highlighted the effects of China's National Sword Policy that took effect in 2018, noting some surprisingly positive changes because of it.
"Recyclers are investing a lot more in technology because we have to do things cheaper, more efficiently and we have to create a better quality product in the backend," Robinson said. "We are a more efficient industry than we were three years ago, producing a better quality product and we're seeing the market demand grow in North America."
Waste Management is committed to helping improve America's recycling system. The company has invested over $200 million in recycling infrastructure over the last two years, building and upgrading materials recovery facilities (MRFs) and increasing efficiency across the board.
To finish the session, Biderman talked about SWANA and its members' work to advance waste and recycling programs in the United States, and the importance of support from the federal government when it comes to promoting these efforts, especially as municipalities deal with the financial crisis created by the COVID-19 pandemic.
"SWANA supports federal bills that provide funding to local agencies and others to promote recycling," he said. "Local governments are facing a fiscal crisis and they're making difficult choices. If the choices are between schools, police and recycling, recycling is going to be third every time. Legislative support for recycling programs is very important."
However, even with action from the federal government, recycling still faces major challenges. It will take help from all stakeholders, from the waste industry and CPG to government and consumers, to truly tackle the challenges of today's recycling system, starting with building an innovative system for the future all the way to educating people on how to use it.
"This is not a time to be incremental. The system is too big and too much needs to be done," Biderman said. "The waste industry has a responsibility to invest in its own infrastructure to make the system stronger. The municipalities need to do a better job of educating consumers and we need the folks who are downstream from the MRF to be more engaged with us on both financing and product development."
Published on October 8, 2020
Our Updates, Delivered to You
Receive the latest updates from the Consumer Brands Association.