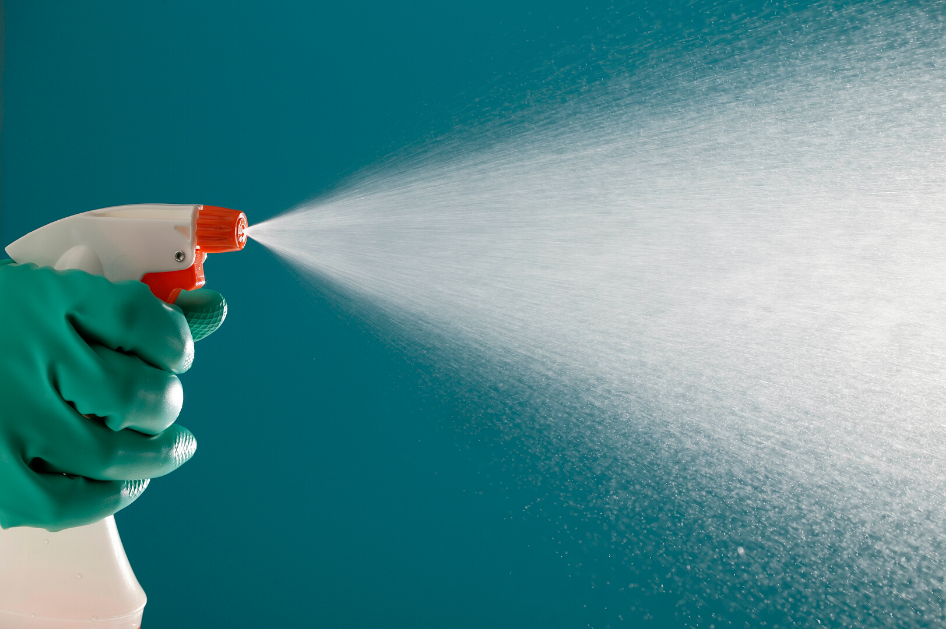 Blog
How Americans Are Preparing for Coronavirus — And What it Means for the Supply Chain
The post below reflects survey results for the week of March 4. More recent survey results are available from the weeks of March 11, March 18, March 25, April 1 and April 8. 
The new coronavirus has spread across the globe, with more than 100,000 confirmed cases of the resulting disease, COVID-19. It's not just the disease that is spreading; it's also panic.
Consumer Brands Association surveyed 604 Americans about the coronavirus on March 4. More than three-quarters (76%) said that they were concerned about coronavirus. Driving their concern is fear of the unknown. When asked what they were most concerned about, the most common response was how little is known about the virus, from how it spreads to when a vaccine will be available.
The vast majority (89%) of Americans think that government should do more to plan for and mitigate against supply chain disruptions of critical consumer goods.
The limited number of Americans who say they are not particularly concerned (18%) or not at all concerned (6%) feel in large part that the panic is more media-driven than reality, with 62% citing this reason as why they aren't concerned.
But the vast majority of Americans who are concerned are creating new demand — and new shortages — for coronavirus preparedness products, like cleaning products, hand sanitizer, shelf-stable foods and more. As it stands now, 22 percent of Americans say they have stocked up on items to guard against coronavirus and another 30 percent say they plan to.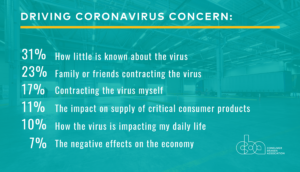 It's not just what Americans are buying, it's where they are buying, as almost half of respondents said they had changed or were considering changing their grocery buying habits as a result of coronavirus concerns. Eighteen percent of Americans Consumer Brands surveyed shared that they have changed their grocery shopping habits, choosing to buy online or use delivery or pick-up services so they can mitigate their exposure to crowded spaces. Another 26 percent said they haven't changed their grocery shopping habits yet, but they are considering alternatives that don't require they go into a physical store.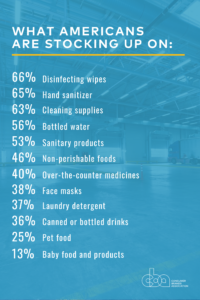 The unprecedented demand for products has led companies that manufacture cleaning products, like Clorox, P&G and RB, which owns Lysol, to step up production. Manufacturers of shelf-stable foods are also reporting increased production. The CPG industry is responding and working to get products in the hands of consumers who are clearly clamoring for them. Nearly four-in-ten Americans (37%) have personally noticed supply shortages or quantity limits, with another 28 percent sharing they hadn't seen shortages but their friends or family had.
The industry is doing what it can, but coronavirus has put supply chain concerns front and center. No longer invisible to consumers, the visual evidence of its importance is manifesting in the form of empty shelves and out of stock notices online. Some retailers are responding by limiting quantities for high-demand items, a step that may help ensure continued access to critical products that consumers need.
The vast majority (89%) of Americans think that government should do more to plan for and mitigate against supply chain disruptions of critical consumer goods. While we're in response mode now, government leaders need to invest in understanding supply chain disruptions and work on a holistic approach to policy. While there's not much good news around coronavirus, the House Supply Chain Caucus launched this week. This bipartisan group is forming at a critical time, committed to gaining an understanding of all the supply chain pieces and how they can fit together in the form of good policy — to enhance U.S. competitiveness, but also health and safety.
But right now, we are in the midst of an outbreak and have to deal with its downsides. And unfortunately, where there's unprecedented demand, there are opportunists. Reports of price gouging — California Governor Gavin Newsom tweeted a case of hand sanitizer going for $400 — for high demand items started surfacing, primarily from online third-party sellers. While Amazon, Walmart and others are cracking down on these unethical practices, 24 percent of Americans said they have witnessed price gouging.
The vast majority of Americans see a role for the government stepping in to prevent price gouging. Nearly nine-in-ten (88%) agreed there should be a means for consumers to report price gouging to the government.
The CPG industry is unequivocally opposed to price gouging and works every day — crisis or not — to ensure consumers have access to the affordable products they rely on. Price gouging undermines that mission and, in the case of a pandemic, is a threat to public health.
We don't know when or how coronavirus will end. It is clear consumers are reacting to this uncertainty. But we do know that uncertainty should not be preyed upon. The CPG industry will continue doing everything it can to keep up with demand and will support government leaders who are ready to work toward smart solutions that make our supply chain more efficient and reliable — now and in the future.
From providing original research, industry guidance and cutting-edge insights, to advocating on Capitol Hill and shaping policy that will have an impact for years to come, we are committed to delivering for our industry during this crisis. Stay informed.
Published on March 6, 2020
Our Updates, Delivered to You
Receive the latest updates from the Consumer Brands Association.