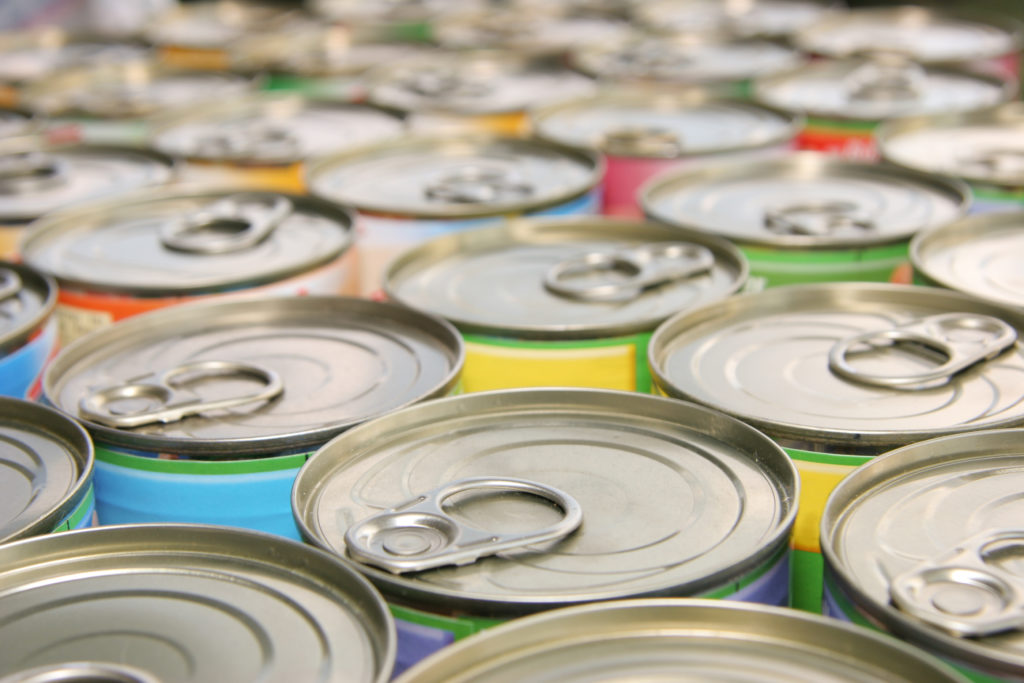 Blog
What a Difference a Week Makes: American Attitudes Shift on Coronavirus
The post below reflects survey results for the week of March 11. More recent survey results are available from the weeks of March 18 and March 25, April 1 and April 8. 
The coronavirus situation is changing rapidly, as are American attitudes about its impact. Consumer Brands Association's weekly survey found that only 15 percent of Americans consider themselves very prepared. And while the slight majority (51%) say they are somewhat prepared, more than a third (35%) of Americans admit they are underprepared to deal with coronavirus.
As anxiety about coronavirus has grown, so too has the number of consumers noticing shortages of high-demand products like hand sanitizer, disinfectant wipes and toilet paper. Last week, 37 percent said they seen empty shelves, out of stock notices online or item limits from retailers. This week, the number shot up to 49 percent.
If Americans aren't personally experiencing shortages, 30 percent said their friends and family had, up slightly from 28 percent last week. Only a minority of Americans (21%) say they haven't experienced shortages or heard of their friends and family having issues getting high-demand items, dropping significantly from 36% last week.
Nearly one-third (31%) are purchasing supplies specifically to prepare for coronavirus, up from 22 percent in just the last week. At this point, 43 percent of Americans say they haven't purchased supplies as a result of coronavirus impacts, down slightly from 47 percent last week, but a number we expect more significant change in next week as schools and workplaces close in droves across the country.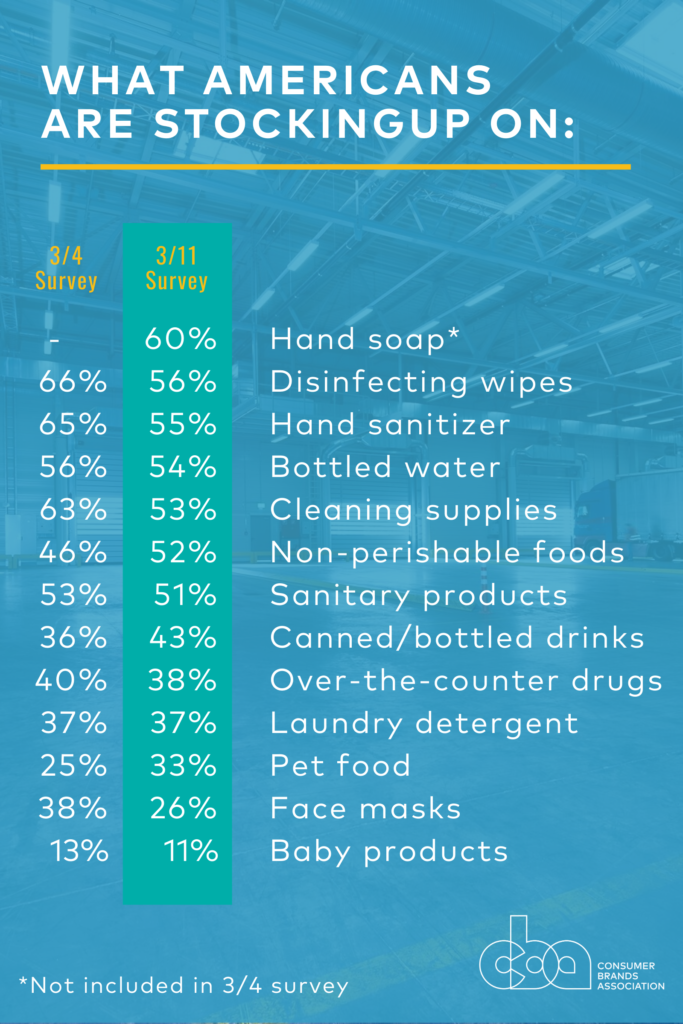 When it comes to what Americans are stocking up on, the list of most popular items hasn't changed much from last week, but the most high-demand items (disinfecting wipes, hand sanitizer and face masks) experienced declines, likely a result of item availability. Increases of significance were seen in pet food, non-perishable food and canned or bottled drinks, as Americans realize the need to have a supply at home should they be required to self-quarantine or work remotely. Several retailers have responded with quantity restrictions on high-demand items in an attempt to ensure an available supply of critical products, which is helping to stave off hoarding and limit opportunities for price gouging.
Price gouging from third-party sellers was more in view for Americans this week; 29% said they witnessed price gouging this week, up from 24% last week. Charging unethical and exorbitant prices is something the CPG industry are unequivocally opposed to. Last week, Consumer Brands sent a letter to Attorney General Barr asking for the DOJ's attention to the issue, a request DOJ responded to within hours. If you have seen price gouging, check our recent post for how to report it here.
A majority of Americans are concerned about their ability to get access to essential products. Somewhat unexpectedly, they are most concerned about access to food and beverage products, despite cleaning and disinfecting products being the most stockpiled items. More than six-in-ten (63%) Americans said they were concerned about access to food and beverage products, slightly more than those concerned about access to over-the-counter medicines (58%), personal care products (56%) or household cleaning products (54%).
Americans' access fears are driven mostly by other consumers. More than four-in-ten (42%) said their biggest access concern was other people hoarding essential products. Concerns over manufacturers being able to keep up with demand (27%), already trying to buy products that weren't available (11%), running out of raw materials to manufacture products (10%) and not having enough trucking capacity to deliver products (9%) trailed behind on the list of concerns.
Access and affordability concerns punctuate the importance of a high-functioning supply chain. Coronavirus has been a severe stress test and we're continuing to learn the opportunities to improve it, in the short-term and well after this outbreak is in the history books.
From providing original research, industry guidance and cutting-edge insights, to advocating on Capitol Hill and shaping policy that will have an impact for years to come, we are committed to delivering for our industry during this crisis. Stay informed.
Published on March 15, 2020
Our Updates, Delivered to You
Receive the latest updates from the Consumer Brands Association.